'It's a dark time,' says Corrie's Jane Danson, as Simon discovers Leanne's prostitution past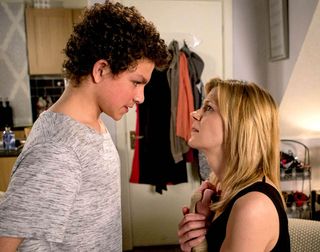 (Image credit: Joseph Scanlon)
Life's a living hell for Leanne - and Coronation Street's Jane Danson tells Soaplife just how bad it gets...
Leanne Tilsley should be slowly trying to rebuild life after losing her fiance, Kal Nazir (Jimi Mistry (opens in new tab)), in the fire, but instead she's living in fear and despair. She's got desperate Dan trying to keep her quiet about his past as her violent client when she was a prostitute, and tween terror Simon making his growing pains very painful for her. Now Dan's threatening to tell Simon about Leanne's past life… unless she keeps their past a secret from Liz.
"Leanne dreads Simon finding out she was a prostitute – he isn't old enough to understand why she did what she did," Jane (opens in new tab) tells Soaplife. But Leanne still feels she has to tell Liz the truth about Dan – and the repercussions are far worse than she can ever have imagined.
Why does Leanne tell Liz about Dan?
"Liz prises it out of her. Leanne being Leanne admits everything to Liz who then, very publicly, dumps and disgraces Dan [Andrew Paul (opens in new tab)]. After this, Leanne is terrified about Simon finding out about her past. That's her worry rather Dan hurting her again."
But he does both, doesn't he?
"Yes. He grabs her as she's going into her flat, and forces his way through the door, where he finds Liz [Beverley Callard (opens in new tab)], who has been looking after Simon. Dan kind of holds them hostage and becomes violent towards Leanne. She tries to pacify him, but it doesn't work and Dan tells Simon she used to be a prostitute. Leanne flies at Dan and she, Liz and Simon make a run for it."
How does Simon react to hearing about his mum's past?
"He's upset at first, but then the anger kicks in and he lashes out at her. The one constant in his life has been Leanne, but now he sees she's flawed - just like everyone else. It's a very dark time in both Simon and Leanne's lives."
Can their relationship be mended?
"Definitely. Leanne's love for Simon [Alex Bain (opens in new tab)] is unconditional. I think that, with help, Simon will redeem himself, accept the reasons behind his behaviour and be able to move on from it."
Coronation Street (opens in new tab), ITV
Get the latest updates, reviews and unmissable series to watch and more!
Thank you for signing up to Whattowatch. You will receive a verification email shortly.
There was a problem. Please refresh the page and try again.