Corrie producer Kate Oates excited to bring back 'a strong Barlow core' (VIDEO)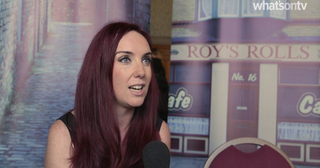 New Corrie boss Kate Oates speaks about making the Barlows the heart of the show with the return of Peter Barlow, plus Adam Barlow and Daniel Osbourne's imminent arrival
Coronation Street producer Kate Oates revealed her excitement at bringing the Barlow dynasty back to the heart of the show with, first, the return of Peter Barlow and soon the arrival of Adam Barlow and Daniel Osbourne.
Kate told What's on TV it was a no-brainer to bring back Peter (Chris Gascoyne).
"Chris has such a love for the show I think there was always the hope that he would come back," she said. "I think it was good mutual timing thing really. I think he lights up the screen, he's so charismatic, he's such a fantastic actor, he's so deeply dedicated to what he does, he thinks about every word and every nuance, he loves the craft of it.
"So having Chris back is great not just for the viewers, but for the people behind the scenes. Everyone loves him, so I think that when Peter is here you have a more whole Coronation Street."
Kate said expanding the Barlow presence in Corrie was a logical step. "There was no bringing back or creating new characters, you know, long-lost siblings. These characters already existed. You've got Mike Baldwin's grandson and Ken's son. Historically Mike and Ken were always at loggerheads, so the idea of having their two offspring arrive at the same time and having that dynamic between them was just too good to pass, so I'm really excited to have that nice, strong Barlow core at the centre of the show."
Kate has been in the job at Corrie for six months and before that was series producer at Emmerdale for three years. She said Corrie and Emmerdale share more than they differ.
"There is a different element because you're dealing with cast who've been here [at Corrie] such a long time and because they've been through such change and so many producers. When you sit and talk to some of the actors who have been here since the beginning, the stories and the anecdotes, you could just stay chatting to them for days on end and not get bored. It's fascinating stuff."
She continued: "You do get a sense of the history and the icons as you work on a show like this. It's important not to dwell on it too much because you'd probably be so terrified of doing anything that you wouldn't get out of bed! But it is a privilege."
Watch the interview with Kate Oates, above.
Get the latest updates, reviews and unmissable series to watch and more!
Thank you for signing up to Whattowatch. You will receive a verification email shortly.
There was a problem. Please refresh the page and try again.