'Killer' Carla arrested over factory death shock – She thinks she's guilty, reveals Coronation Street star Alison King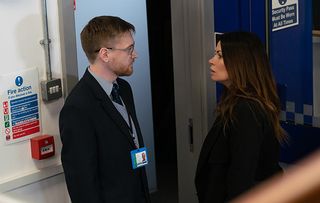 Investigation: Safety officer Wayne is on Carla's case in Coronation Street
Carla Connor will be arrested in Coronation Street over the collapse of the factory roof which sees at least one resident losing their life.
During Sunday's episode, Carla is taken to the police station and investigated over the disaster.
Carla is panicking that she will face a manslaughter charge and that she is to blame for the tragedy because she cut costs over repairing the roof.
And Alison King, who plays Carla, reveals that Carla's convinced she's guilty.
"The worst thing ever has happened," says Alison. "She totally believes she is responsible because she didn't get the roof fixed."
The victim's family clearly want some answers and Carla is in the firing line. But, as we know, this drama is set to play over many weeks, which suggests that Carla might not be to blame after all.
In a further twist it turns out that the health-and-safety official leading the investigation is Roy's former foster son, Wayne Hayes.
"Wayne knows Carla is Roy's lodger but at first he doesn't know their history and how close they are," explains actor Adam Barlow, who plays the inspector.
"It could be a conflict of interest for Wayne, who prides himself on doing his job well. He won't let his relationship with Roy get in the way even if it causes them problems."
Another of the prime suspects is Robert of course, who's had a long and tricky relationship with Carla.
He's certainly been behaving suspiciously….
"There's a lot going on with Robert," says Tristan Gemmil, who plays him, "and if there's one thing he's shown in the past, it's that he can incredibly impulsive and do stupid things."
So, will there be further suspects carted off the station? And who was really behind the murderous scheme?
Coronation Street continues on ITV.
Get the latest updates, reviews and unmissable series to watch and more!
Thank you for signing up to Whattowatch. You will receive a verification email shortly.
There was a problem. Please refresh the page and try again.