Kym Marsh picks her top 5 storylines as she celebrates 10 years on Corrie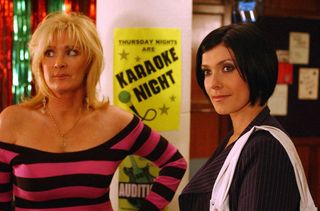 As she celebrates a decade in Coronation Street, Kym Marsh shares her top five highlights with TV Times, and her delight at being reunited with screen husband, Simon Gregson...
After 10 years on Corrie your days in the charts with Popstars winners Hear'say must seem like a long time ago now?
"When people see me now, they forget that I'm a singer – and that's a real compliment. Not that I was ever ashamed of where I came from, because it was ultimately being in Hear'Say that brought to me to where I am today. But it means they see me as an actress, and very much a part of this show."
You got the acting bug when you were part of a 2004 West End production of the musical Saturday Night Fever, didn't you?
"I'd always loved acting when I was younger, but it kind of got forgotten about, with the singing. So I thought 'I'll try and get an agent and see what happens.' I felt like I had a lot to prove, and I know that Shayne Ward [former X Factor winner, who plays Aidan Connor] has felt that, too. In this country, you won't necessarily be seen as a serious actor if you come from the music world, whereas in America, it's quite common to do both.
"So I had a lot of doors slammed in my face in the beginning, and my agent said to me: 'You'll have to do a few things before people start to take you seriously.' I did an episode of Doctors and a Holby City and a couple of theatre things, and then the opportunity came up for this, so I was very fortunate.
You were originally signed up for just four episodes, but after being courted by the producers of Hollyoaks, Corrie asked you to return for a longer stint…
"I played a call girl in [spin-off] Hollyoaks: In the City, just after my first Corrie stint, and they wanted me to stay on. I can remember exactly where I was when I got the call about coming back – I was in my kitchen in St Albans [where Kym was living with children David and Emily and first husband, Jack Ryder], making spaghetti Bolognaise. That got left in the pan, and we all went out to celebrate."
It must be nice to celebrate your 10th anniversary with the return to Corrie of Simon Gregson…
"I've missed Simon terribly. Working with him is like putting on a pair of comfy slippers. I've spoken to him on the phone quite a lot and he's popped in to the studios and brought his new baby boy in – who has more hair than he does! But it's so good to see him, and he looks really well. Too well, in fact, because he's really brown.
"I said to him the other day, 'You look like Des O' Connor!' His wife, Emma, had 'faked baked' him, because of Steve having been away in Spain. He was like 'My hands are a bit patchy, though – I look like I've had a fight with a gingerbread man!'"
KYM'S TOP FIVE CORRIE MOMENTS
1 .
My first episode (2006)
"I was brought in to stir things between Vernon and Liz. Vernon was a bit flirtatious and Liz thought they were having an affair. Being in The Rovers was slightly intimidating, but I truly enjoyed myself, and Beverley Callard made me feel so welcome."
2.
Michelle/Sonny/Sean love triangle (2007)
"Sonny was my first screen kiss, so Pal Aron, who played him, got the most terrified girl ever! My friendship with Antony Cotton (Sean) really blossomed during this time. And, of course, this was the start of the 'Will they, won't they get together?' storyline with Michelle and Steve."
3.
Michelle discovers the truth about Dean's death (2007)
"Michelle had always believed that her boyfriend Dean had been drink-driving when he died, but she found out that Paul was driving, and he and Liam had moved Dean into the driver's seat when they crashed. There was a massive set-to between Liam and Michelle, and I had my first big crying scene."
4.
Michelle and Steve get back together (2012)
"Steve had broken Michelle's heart by cheating on her with Becky and then marrying her. It took her a while to trust him, but finally they got together. I love working with Simon, and I think the public really love Steve and Michelle together."
5.
Steve's depression (2014-15)
"Simon and I wanted to do this justice for everyone going through it. He was fabulous, and I wanted to show what it was like to be on the receiving end. It was also a love story, because it was Steve and Michelle's love for each other that ultimately got him through it."
Get the What to Watch Newsletter
The latest updates, reviews and unmissable series to watch and more!