Corrie star Kym Marsh: 'To win three Soap Awards would be ridiculous!'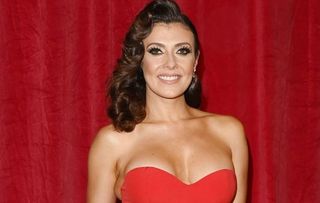 The Weatherfield favourite, who's nominated for three awards at this weekend's ceremony, talks prizes, partying and prosecco – and reveals what she'll be wearing on the red carpet…
It's been a huge year for Corrie star Kym Marsh, who has moved soap fans to tears with her performance in Michelle Connor's late miscarriage storyline. Kym, who's nominated in three categories at the British Soap Awards – Best Actress, Best Female Dramatic Performance and Scene of the Year – talked to us ahead of the big bash...
Kym, how do you feel about the possibility of doing the treble? "I'm absolutely delighted! To be nominated is brilliant, and to win one would be amazing. To win three would be ridiculous and I'll probably be very drunk!! But you never know, do you?"
If you were lucky enough to win a trophy, who would you most like to present it to you? "Tom Hardy!"
Have you prepared a speech in case you win, or will you just talk off the cuff? "I can't talk off the cuff because it would be just awful. Nearer the time, I'll put something together. The worst part about speeches is missing someone out, so the best thing to do is keep it brief and not mention anyone's names."
You've had a huge reaction to the storyline in which Michelle and Steve lost baby Ruairi. Do you feel proud of your achievements? "Absolutely. I'm really proud of us as a team, actually. We worked so hard; the scripts were phenomenal and the director was really sensitive, as were the crew. When we saw the finished piece, we were blown away. I put everything into it, and I took myself back to places that I had tried so hard to come away from. I wanted to make it as realistic as possible for those people watching, because I know how important that is."
Do fans still approach you about the storyline? "Yes, in fact just the other day someone came up to me about it. And since the storyline aired, I've become more involved with baby loss and bereaved parents. I'm an ambassador now for a charity called Saying Goodbye. There are so many people who said they were able to identity with the story, and we know that websites and helplines had a big surge, so we've reached out to a lot of people."
It has been another strong year for the soaps – are there any other actors or storylines that you think deserve recognition? "Lucy Fallon has been wonderful in the storyline about Bethany being groomed. Some people have said that it's difficult to watch, but there's a reason for that. It's so realistic and it's such a huge subject and an important one. And that's what soaps do – we tell important stories. Should I lose out to Lucy, I'll be losing to a very worthy winner. And I have to give credit to Emmerdale for their dementia storyline. That has been a big one for me, and Charlotte Bellamy (who plays Laurel) has been wonderful."
It's 10 years since you last won a soap award – for Best Newcomer. Can you remember much about that night? "Yes, I was ecstatic! Obviously, being new to the show, it was such a thrill. And here I am, 10 years later, with the possibility of winning another award – it's lovely!"
Where have you put your Best Newcomer trophy? "I think my mum's nicked it! I've got my NTA and she's got my Soap Award. She's not having any more though, if I win any this year! Seriously, though, my parents are so supportive. They've got so much memorabilia in their house, including my gold discs from when I was in Hear'Say. They're proper proud."
Can you remember your first ever award? "I do, it was a singing trophy, called The Ken Dodd trophy, for a competition called Joy Time in New Brighton. I was 10 years' old."
Have you chosen your dress for this weekend? I have, yes. I'm usually last minute – ask anyone at Corrie, I'm terrible! But this year, because I'm nominated, I thought I'd better look good! I wore a red dress last year, but this year I've gone for something blue. But I don't want to give anything else away!
Have you ever worn anything at an awards show that you've regretted? "Yeah, I've worn some terrible things in the past – did you see me in the Hear'Say days? I went to the Brit Awards once, and the record company company got this woman to make a dress for me. She said: 'It's gonna be amazing!' But I looked like an umbrella! At the Soap Awards, I've been OK, though. I go for quite simple things; I'm not one for anything daring or not wearing any knickers!"
>>Find out everything you need to know about the 2017 British Soap Awards here
Who will be your plus-one guest this year? "I'm taking my son, David. I've never taken him before because he's quite shy and doesn't like cameras, but this year I said 'Do you want to come?' and he said 'Yeah mum, I'd love to.' This was before I knew I was nominated, and now my daughter Emilie, who's been with me a few times, is gutted. We're going suit shopping, but David's on a health kick at the moment, so we'll leave it to the last minute."
Do you have any friends in other soaps that you'll catch up with on the night? "Yes, I used to live next door to Duncan James when I lived in Hertfordshire, who's now in Hollyoaks (playing Ryan Knight) so I'll catch up with him. He used to pop round, and we'd have drinks in each other's houses. We never sang together though!"
What will be your tipple at the aftershow party? "I like a glass of champagne or prosecco, and I'm partial to a gin and tonic."
Will you be up on the dance floor? "It depends how much prosecco I've had! I like music from the 80s and 90s so that will probably get me up."
And will you be partying till the early hours or leaving at a respectable time? "I normally get to a point where I'm like 'Right, it's time to go home!' Gone are the days where I'm still up at 5 o'clock in the morning. I can't cope with the hangovers – they're much worse as you get older!"
The British Soap Awards screen live on ITV at 8pm on Saturday, June 3rd
Get the What to Watch Newsletter
The latest updates, reviews and unmissable series to watch and more!
Alison Slade has over 20 years of experience as a TV journalist and has spent the vast majority of that time as Soap Editor of TV Times magazine.
She is passionate about the ability of soaps to change the world by presenting important, issue-based stories about real people in a relatable way.
There are few soap actors that she hasn't interviewed over the years, and her expertise in the genre means she has been called upon as a judge numerous times for The British Soap Awards and the BAFTA TV Awards.
When she is not writing about soaps, watching soaps, or interviewing people who are in soaps, she loves going to the theatre, taking a long walk or pottering about at home, obsessing over Farrow and Ball paint.