Sean Tully attacked by thugs in Coronation Street reveals Antony Cotton!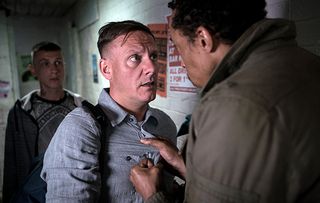 (Image credit: Andrew Boyce)
Homeless Sean Tully's problems go from bad to worse when he is beaten up by thugs, says Coronation Street star Antony Cotton
Poor Sean Tully's been secretly sleeping rough for a few weeks now. But pretending that all is fine-and-dandy is really beginning to get to him – not least because, convinced he'll be able to rent a grotty bedsit which he ends up missing out on, he gives away his tent and then he's mugged.
What's the story?
"He's bruised and battered and totally at the end of his tether," actor Antony Cotton tells Soaplife. "Sean's a very proud man, which is why he's been pretending to his friends on the Street that everything is fine." But he's not going to be able to pretend for much longer…
What's happening in Coronation Street? See the latest soap storylines
Antony Tully's interview with Soaplife about homeless Sean Tully beaten up by thugs…
Soaplife: Sean has some very good friends on the Street. Why hasn't he felt able to confide in them?
Antony Cotton: "Like I say, he's very proud plus everyone seems so caught up in their own lives. Initially, as every avenue seemed to close, he just shrugged his shoulders and thought he'd only be homeless and have to sleep rough for a day or so. But that's not what's happened."
S: What does he do after the mugging?
AC: "A girl called Carol, who's been homeless on-and-off for four years, comes to his rescue. She takes him to hospital and then, when he's been patched up, takes him to a kind of rehab village on the Red Rec. There's a kind of community there which means it will be safer. There's safety in numbers."
S: How will Sean's friends in the Street react when they find out he's homeless?
AC: "They'll be shocked that they didn't realise. It'll be that thing of, 'OMG! It's happened to Sean who's one of us and on our doorstep!' There'll be some feelings of guilt on their behalf, I'm sure. They'll be gutted that they didn't notice anything was wrong, especially after what happened to Aidan Connor."
S: How long does this storyline go on for?
AC: "About three months in all. I'm so pleased to be involved in a storyline like this. It shows that it could happen to anyone. It's said that you're only two pay cheques away from being homeless. It's an illusion that all homeless people are problem drinkers or drug addicts."
S: Is it true you've been helping a real-life homeless friend while you've been doing this storyline?
AC: "It happened just before actually. I helped a bloke I know sort himself out and deal with the authorities. It's an absolute Pandora's Box and no wonder people who don't have any help just give up in despair. The fact I was involved with homelessness in real life had no bearing on this storyline. It's one of life's coincidences. Happily, my friend has now come out the other side, but the system needs to change to make it easier for homeless people to get help.
Coronation Street continues Mondays, Wednesdays and Fridays at 7:30pm on ITV
Get the What to Watch Newsletter
The latest updates, reviews and unmissable series to watch and more!