Coronation Street's Tina O'Brien: 'Sarah told him it's over, but she can't stop loving Gary'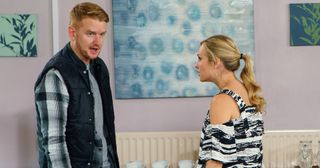 (Image credit: Mark Bruce)
Sarah Platt is relieved when Gary Windass comes home to Weatherfield but star Tina O'Brien's not sure they can kiss and make up…
Sarah Platt dumped Gary Windass when he went to the Ukraine to do well-paid yet extremely dangerous security work, even though she'd begged him not to go. Now he's home in Coronation Street, but is their relationship back on?
"While Gary's been away, Sarah's not been able to switch off her feelings," actress Tina O'Brien explained to Soaplife. "She just wants to know he's safe…"
And she gets her wish when he turns up at her parents' support group…
How does Sarah feel when Gary walks into the support group session? "She's feeling really nervous, especially as everyone else seems to be with their partners. So when Gary walks in, she's caught off guard. Initially, she's quite frosty. But as she opens up about what happened to Bethany, she allows him to comfort her. She needs his support. Then, as he talks about how he feels about her, she realises she doesn't want to be without him."
How would Sarah feel if she knew Gary had come home covered in bruises? "Devastated. She said it was over when he left, but she can't stop loving him. She's been worried sick while he's been away."
How does she react when Gary's then offered more work in the Ukraine? "When Gary tells her this and that he intends to accept, Sarah is gobsmacked. She hates him doing this work and she can't accept his decision to go back. It puts a real strain on their relationship."
Then he pushes her away when she suggests an afternoon lie-down… "Sarah's really disappointed when Gary pulls away from her, but he makes an excuse about needing to spend some time with his son, Jake, and she accepts that. But as the days go on, his behaviour's a bit strange. Sarah's confused, but she tries to brush it off because she doesn't want to spoil the time they have together."
After everything that's happened, how devastated would she be if things fell apart with Gary? "She'd be gutted. She's been through a lot over the last few years, but come out fighting, and her relationship with Gary is one positive that's come from it all. He's been there for her when she's needed him and I think they genuinely love each other. But I don't know how much more Sarah can take if Gary keeps accepting this highly dangerous work."
Get the latest updates, reviews and unmissable series to watch and more!
Thank you for signing up to Whattowatch. You will receive a verification email shortly.
There was a problem. Please refresh the page and try again.