Izzy faces a prison nightmare in Corrie!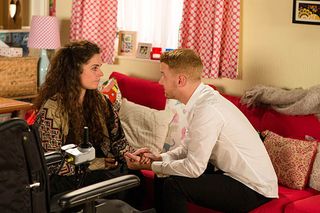 (Image credit: Joseph Scanlon)
Izzy is facing a stretch inside when she shows no remorse for taking cannabis and assaulting a police office in Coronation Street
Having been found guilty of possessing cannabis and causing actual bodily harm, Izzy Armstrong (Cherylee Houston) discovers her fate when she returns to court for sentencing in Corrie… and it doesn't look good.
After getting into cannabis to help her deal with the pain caused by the condition that confines her to a wheelchair, Izzy showed no remorse for her addiction and assaulting a police officer, and she knows a prison sentence is the most likely outcome.
How will she cope if she has to leave toddler son Jake with his dad, Gary Windass (Mikey North), and his family while she's locked away?
On the day of her sentencing, Izzy drops Jake off at the Windass home, where she goes through the childcare rota she's prepared if the outcome is as bad as she fears...
Gary does his best to comfort a tearful Izzy, who pulls him in for a kiss… and he kisses her back!
Later, as Izzy's spoken to by a prison officer, it looks as if her worst nightmare has come true…
Izzy's all alone and facing a bleak outlook… Will the experience of her close encounter with Gary help her get through her ordeal?
Watch Coronation Street on ITV from Monday, 27 June
Thank you for signing up to Whattowatch. You will receive a verification email shortly.
There was a problem. Please refresh the page and try again.