Kate and Rana are having a secret liaison when someone targets the till...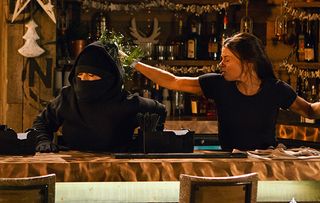 (Image credit: Mark Bruce)
And Kate bashes the intruder!
Rana and Kate get more than they bargained for in the Bistro! Once upon a time, the biggest problem to beset the Bistro was Gail ordering 500 jars of olives. Since then, there's been a robbery, a near murder, a petrol-bomb attack, a spot of vandalism and a drugs raid.
Next week, robbery number two takes place when a dark figure enters the premises after hours, and steals money from the till.
It happens not long after Robert has opened up to Michelle about his recent blow-out at the casino, in which he lost a whopping 10 grand. He confides in his partner that he self-destructed because he was scared about having surgery for testicular cancer, and says he wouldn't blame her if she left him.
Michelle does no such thing and insists they're in this together – well, when you consider what numpty Steve McDonald put her through over the years, this crisis must seem like small-fry.
With a steely look on her face, Chelle then deliberately breaks the restaurant's card machine when no one is looking, and tells the Bistro punters they must pay for their food and drink with cash – the prices for which she inflates when keying them into the till. By the end of the day, the till is bursting with notes. Rotten luck, eh?
The place is closed when a thief later creeps in. He or she assumes the place is empty, but they're wrong, because Kate and Rana are having a rendezvous.
The secret lovers disturb the intruder, and Kate smashes them over the head with a bottle. The girls make their escape, and Robert later reveals to Michelle that the insurance company are going to pay out. Hurrah – a soap business that has actually got insurance! But will it get the couple out of their financial hole?
Take that! The intruder gets clobbered by Kate as she helps herself from the bistro till!
Take that! The intruder gets clobbered by Kate as she helps herself from the bistro till!
Meanwhile, distraught Anna has collapsed in prison and been taken to hospital, where she gets more bad news from Kevin…
Later, Anna spots a chance to escape when she's left unattended in hospital and legs it!
Kate and Rana have secretly met after hours at the bistro…
…but then the intruder enters and gets bashed. Kate has no idea who the black-clad figure is
In the aftermath, police arrive to quiz Zeedan
Is he about to have his collar felt for a crime he didn't commit?
Fiz upsets Tyrone when she suggests that Ruby may have inherited Kirsty's violent temper
And when the trampoline is set on fire at No. 9, it seems her fears may have been proved correct!
Elsewhere, Leanne is back from France, but Eva's delight at seeing her is short-lived
Back at the bistro, there's a surprise in store for Sinead when Chesney pops the question to her!
Not so happy is Chesney's love rival Daniel, who's naturally appalled by the proposal
Not long after, Chesney appears to go down with food poisoning and claims someone has tampered with his meal. Who could he have in mind?
Soon, the pair are having a confrontation in the backyard of the Rovers
By the time Sinead discovers the pair, Chesney has a bad head wound. Has Daniel taken violent revenge? Catch a dramatic week on Corrie from Monday 11 December
Get the What to Watch Newsletter
The latest updates, reviews and unmissable series to watch and more!