Will Pearl Mackie leave Doctor Who with Peter Capaldi?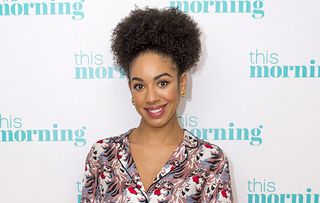 (Image credit: Rex Features (Shutterstock))
Pearl Mackie plays the first openly gay companion to the Doctor, but the actress says it is not up to her whether she stays or not...
Doctor Who actress Pearl Mackie says she has no idea whether she will be kept on the hit show following the departure of Peter Capaldi.
Peter, 59, bows out as the Doctor after the current, 10th series of the BBC1 show.
Pearl, 29, who plays the Time Lord's sidekick Bill Potts, told This Morning that whether she stays or goes is 'not up to me'.
"I feel like Peter is such a wonderful doctor and I think the dynamic that he and I have playing the Doctor and Bill together is something that really works. That's not to say it wouldn't work with a new Doctor," she said.
"I think it's always a new adjustment getting a new Doctor. Inevitably, the dynamic is different".
Reports previously suggested that Pearl, 29, could leave after just one series as the Doctor's sidekick.
Her character is the Time Lord's first openly gay companion.
She told This Morning: "It's quite subtle. It's not like there's a big reveal, like she has to come out to the Doctor because it's something she's grappling with.
"Bill's very comfortable with her sexuality, she mentions it quite early on. It's not something she wears on her sleeve, that she feels she has to announce all the time. I think that representation is definitely important."
Get the latest updates, reviews and unmissable series to watch and more!
Thank you for signing up to Whattowatch. You will receive a verification email shortly.
There was a problem. Please refresh the page and try again.