Anna Chancellor: 'Girls are so glamorous, but can't get boyfriends. We had hairy armpits and got them!'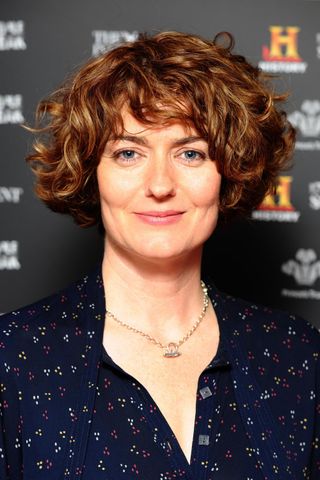 New Downton star Anna Chancellor has complained that today's young women are under intense pressure to look perfect but 'can't get boyfriends'.
The British actress, 48, said that her own generation had no trouble finding a man, despite sporting 'hairy armpits'.
Anna, who played Duckface, the jilted bride in 1994 movie Four Weddings And A Funeral, said that women felt obliged to project glamorous versions of themselves 'having the time of their life' on social networking sites like Facebook.
The actress, who is joining the cast of Downton Abbey, told the Radio Times that young women were too reticent when it came to 'admitting their desire'.
Talking about her marriage to Redha Debbah, a former minicab driver who she met when he drove her to her stage performances in the West End, she said: "I chose him and he resisted at first... How can I admit I chased him, you might wonder. Perhaps I should be more circumspect, but what can you say except the truth?"
Anna, whose husband is seven years her junior, said: "I do feel if girls are ashamed to admit their desire it comes out in ways which are duplicitous, cunning and full of anger.
"I'm not saying if you fancy someone you should tear down their front door - but why not?
"We should be passionate. Who cares about rejection? Your mistakes make you. If someone doesn't want you, move on."
The Hour star, who has a grown-up daughter, Poppy, who has 'a very nice boyfriend', added: "There's such pressure on young girls these days to look amazing and as if they're having the time of their life on Facebook. Truth has gone.
"Now they are so glamorous, but they can't get boyfriends. We had hairy armpits and got them..."
She told the magazine: "I feel I've had enough (sex). At 50 I'm told it gets better. I'm looking forward to the hidden secret of old age sex. I heard a man on the radio say it was like putting a plug into an electric socket. He was 85.
"You might need Viagra, but if science has made something to help us enjoy ourselves - great. We don't want to take headache pills for the rest of our lives."
Anna and her husband, now a computer technician, lived together for 14 years before tying-the-knot in 2010 after a bout of meningitis prompted her to think about marriage.
"It made me wonder who would get me from the morgue. Poppy would have had to, but you don't want to tear your children away from their life to look after you," Anna said of the illness.
Get the latest updates, reviews and unmissable series to watch and more!
Thank you for signing up to Whattowatch. You will receive a verification email shortly.
There was a problem. Please refresh the page and try again.