Jessica Brown Findlay: 'The Outcast is intense!'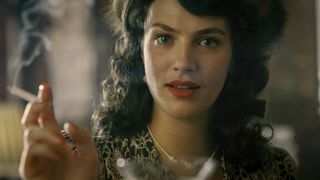 (Image credit: BBC/Blueprint pictures/Nicola Dove)
Downton Abbey star Jessica Brown Findlay (opens in new tab) talks about her starring role in BBC1's emotional two-part post-World War Two drama, The Outcast. Jessica, 25, also reveals despite her success, she still has to audition for roles...
What can you tell us about BBC1's new two-part drama, The Outcast?
"It's not a particularly happy story! It is set in world were nobody is saying how they truly feel, and slowly those emotions start to come out. It's very suppressed and filming was quite intense."
What can you tell us about your character, Alice?
"She's the second wife to Gilbert Aldridge, played by Greg Wise (opens in new tab). His first wife Elizabeth drowned and Alice is far, far younger than any of the other wives in the village. Gilbert desperately thinks he'll start again, almost from where Elizabeth was age-wise, but it results in Alice being very unprepared for a life in suburbia among mothers who've done it all and lived through World War Two with their children. Alice tries very hard to be a mother to Elizabeth's son, Lewis, who witnessed his mother drown."
Does traumatised Lewis warm to Alice?
"I think Alice just wants Lewis (George MacKay (opens in new tab)) to like her. But he's so emotionally damaged from what he's been through he isn't able to talk about it, or get physical comfort from anyone, a hug or even someone just holding his hand. I think she takes the fact that he doesn't immediately like her as a personal affront and it's not. Alice finds it very difficult to communicate with Lewis and it only gets harder as he gets older."
Does she plan to have children of her own?
"She desperately wants to be a mother and have her own child. She assumes if that becomes the case it will feel more like a family and that doesn't necessarily work."
Did you find it an emotionally draining role?
"It could be. I find it's really important to shake it off. Sometimes after I'd finished a scene I wanted to go over to the other person and say 'I didn't mean it!' I like to go home and cook something! "
Is Alice a lonely character?
"She is. She doesn't really have any friends within the village. She's lived in London and moved to this place where the other women don't warm to her. Socially she feels she doesn't know what to do or how to say things. She tends to put her foot in it a lot."
How does she change as the story progresses?
"When we first see Alice she's moving into Gilbert and Lewis's house and is very excited. She wants to decorate it, get rid of the old things and put in the new. But slowly the house starts to feel like a prison. It's her only place yet she's not able to express or be herself there."
It's a village filled with secret troubles. What can you reveal?
"Everyone's going through even darker things than Alice, Lewis and Gilbert, even though the Aldridges are made to feel as if they're the only ones with problems! In the end Alice is able to accept the fact that she's different and her family's different, and that's okay. It's quiet change and self-acceptance."
It's another period drama for you. Did you enjoy the post-war costumes and sets?
"Interestingly, because Alice is quite different she doesn't fit in when it comes to her physical appearance. She tries to be more glamorous than she really is, which riles a lot of the other mums! Later you see her desperately trying to conform and be like the others so she won't be noticeable and her family will blend in. But it doesn't work and as time goes on she lets herself go a bit!"
What would you like to do next?
"I'd love to do a comedy. That's what I adore to watch. I think it's the hardest thing to do but I'd love to go to work where if you trip up it can be included rather than cut. I can't get enough of Modern Family. Ty Burrell (opens in new tab) is fantastic. But it's a different pace so who knows?"
Given your success on Downton Abbey, Jamaica Inn and The Riot Club, do you find scripts come to you now?
"I audition for everything. But it's changed from when I couldn't get a job at all. It's changed but there's still that challenge where the bar is raised. You're constantly a small fish in a bigger pond. But that's where the challenge is. And as long as I learn and grow and am enjoying what I'm doing then that's good."
Based on Sadie Jones's novel, The Outcast starts on Sunday July 12 at 9pm on BBC1.
With twenty years of experience as an entertainment journalist, Elaine writes for What's on TV, TV Times, TV & Satellite Week and (opens in new tab)www.whattowatch.com (opens in new tab) covering a variety of programs from gardening and wildlife to documentaries and drama.
As well as active involvement in the WTW family's social media accounts, she has been known to get chatty on the red carpet and wander into the odd podcast.
After a day of previewing TV, writing about TV and interviewing TV stars, Elaine likes nothing than to relax… by watching TV.
Get the latest updates, reviews and unmissable series to watch and more!
Thank you for signing up to Whattowatch. You will receive a verification email shortly.
There was a problem. Please refresh the page and try again.