'Ben can see something isn't right about Abi's pregnancy,' reveals EastEnders' Harry Reid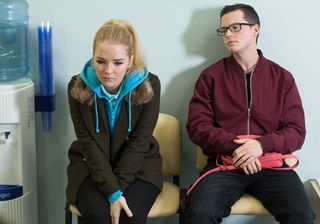 (Image credit: BBC/Jack Barnes)
Abi tells Ben she's pregnant in EastEnders. Where does that leave the mixed-up Mitchell? Harry Reid (opens in new tab) reveals all to Soaplife…
It was a case of 'about time, too' when Ben Mitchell decided to come out and be with Paul Coker, the man he loves. And the truth was on the tip of his tongue…but he bit his tongue when Abi Branning announced her pregnancy. Her timing's deeply suspicious, but Ben believes he's about to become a dad again.
"It's a massive shock," says Harry. "What Ben really wants is a happy life with a man, Paul being the one."
Will Ben stay in the closet now?
"He doesn't initially want the baby. He's already got one child, but he's never bothered to be part of her life. However, Ben's always trying to prove himself and this baby is an opportunity for him to be the man Phil [Steve McFadden (opens in new tab)] wants him to be. He eventually decides he wants to be a proper dad."
Does he talk to anybody about his fears?
"Jay [Jamie Borthwick (opens in new tab)] knows how Ben feels. He always has and he thinks Ben should just come out and tell Abi [Lorna Fiztgerald (opens in new tab)] he's gay. Paul wants Ben, but he doesn't want to see Abi hurt, and he'd like to see Ben step up and show what he can do."
But can he spend his life with somebody he doesn't love?
"He's not thinking logically. He believes he can get on with it and have Paul [Jonny Labey (opens in new tab)] in the background. He's mixed up and all it will take is a little bit of temptation."
What's Whitney's role in all of this?
"Whitney [Shona McGarty (opens in new tab)] was suspicious when Abi announced she was pregnant in The Vic. She wonders if Abi's telling the truth and Ben can see something isn't quite right. However, he doesn't think Abi would lie about something like this."
What happens when the couple go to see a doctor?
"Ben leaves at a crucial moment during the appointment, to get Abi some water. He doesn't think anything dodgy is going on."
What do you think of this storyline?
"I like where it's going. This story is making Abi and Ben more adult. They're having life experiences that make them a bit more edgy. This is a pregnancy and it's a little baby we're talking about."
Can you imagine Ben being a good dad?
"He's got Lexi and he quite likes the idea of a little boy, someone he can mould. He thinks he's going to have this big happy family who'll have Christmas together with nobody drunk at the table, but that's not going to happen."
Does Ben feel bad for Paul?
"In Ben's eyes, Paul is supporting him. But I imagine he isn't happy and he's crying with his nan and his grandad."
How do you feel about Barbara Windsor and Ross Kemp coming back?
"I've worked with Gillian Taylforth and now this. It will be so exciting to have Phil and Grant in the same room. I've heard stories that Barbara is quite strict on set so I'm gong to do my homework."
EastEnders (opens in new tab), BBC1
Get the latest updates, reviews and unmissable series to watch and more!
Thank you for signing up to Whattowatch. You will receive a verification email shortly.
There was a problem. Please refresh the page and try again.