EastEnders' Adam Woodyatt: 'As long as I'm still enjoying it I'll stay for another 30 years'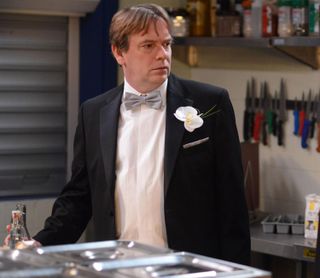 Soaplife talks to EastEnders star Adam Woodyatt, the only actor to have been in the soap continuously since it began 30 years ago…
How did you get the role of Ian?
"I first got asked to audition in the May of 1984 and I couldn't make it! They wanted me in London for 9.30am the next day, but I was living in Wales, working in a butcher's shop, and had already missed the last train to London. The first train the following morning wouldn't get me there in time. Then another phone call came in July. I had more notice, I could make it.
"On the day, it was Matthew Robinson, Vivienne Cozens and Peter Edwards. I did the audition and to me it sounded like, 'Oh yeah, don't worry, we'll call you'. It was pouring with rain as I left and one of the directors ran down the stairs to catch me, one was hanging out the window and the other was on the phone to Julia [Smith, EastEnders co-creator] to say, 'found him!' Anyway, they did catch up with me, just as I was looking out the window. And I'm pretty sure I said, 'God, look at that, it's pissing down', just as Julia Smith walked through the door. And that's how it all began!"
EastEnders wasn't your first acting job, was it?
"No it wasn't. I had done a few things, including Oliver! at the Albery when I was 12. I was one of the kids in Fagan's gang - Perry Fenwick [Billy Mitchell] and Nick Berry had both previously been in it. And then I did On the Razz at the National Theatre, which was by Tom Stoppard and that was really good as we went to Edinburgh and Bristol. Then I did Baker Street Boys for BBC1 – it was a really, really good kids' programme. Then I did The Witches and Grinnygogs and the bizarre thing was one of the witches was played by Anna Wing, who literally months later became my Gran [Lou Beale]."
So when did you meet your on-screen family?
"It was a little while after. I think it was August 14, as it was Gill's [Gillian Taylforth, who played Ian's mum, Kathy] birthday. I remember she got there a little late as she had been celebrating with her family."
Can you remember your first scene?
"I can't remember if it was the one where I was walking round the corner with Tish [Letitia Dean, who plays Sharon Mitchell] going to stall or if it was the one where I was walking across the road to the cafe. It was definitely in the market, though, as I wasn't in the studio for a week."
Did you ever realise how big the show was going to be?
"No. I had a contract for six months, with a year-long option and that was it."
And was it an overnight hit?
"It did all right for the first two episodes. I think it got about 17 or 18 million viewers for the first one. Then it dropped off. We were up against Emmerdale which had been going for a while. So we were on Tuesday and Thursday, Wogan was on the Monday, Wednesday and Friday and we were all on the 7 o'clock slot. We got an absolute kicking off them in the ratings and what changed everything was shifting to 7.30pm. Then you got the build-up to who was the father of Michelle's baby, which was just inspired. And then we went to number one, not on the reveal of Den being the baby's father, on the following episode, which was the first episode for Simon Wicks [Nick Berry]."
So when you started it was you, Tish…
"The kids? Well, yes, Dave Scarboro, was playing Mark Fowler, Sue (Tully, Michelle), Tish – my lovely Tish and Paul [Medford, playing Kelvin]. We were sort of like the famous five I suppose."
Were you mischievous?
"No, no, we were incredibly well behaved. We never got told off or sent home [jokes]. There was one time at the very beginning when Tish and I got sent home and were told to come back the next day as we just couldn't stop laughing. We just got the giggles!"
Your favourite storyline for Ian?
"Oh, that's tricky! The Cindy, Wicksy, Ian 1. The Cindy, other Wicksy, Ian 2; the millennium with Lucy's health scare and Ian and Mel's wedding; Ian's recent breakdown; Who killed Lucy? And what I've got coming next year… If that comes off it will be the one that stands out most."
Are you nervous about live week?
"No, there's no point in getting nervous about it. It's no different to being on stage. By the time we get to transmission we'll have done so many rehearsals. But can you ask me again five minutes before we go live!"
If you weren't in Eastenders, what do you think you'd be doing now?
"Photography."
Can you see yourself being here another 30 years?
"I can't see why not. I enjoy it, as long as I'm still enjoying it then, yes, I'll stay.
Why has Ian has remained in EastEnders for 30 years?
"Lou Berridge [past Executive Producer] once described Ian as her chameleon and I think that sums him up."
EastEnders, BBC1. Click here for dates and times.
Get the What to Watch Newsletter
The latest updates, reviews and unmissable series to watch and more!