Emma Barton: When EastEnders expressed interest in Honey returning, I was like 'Yes please!'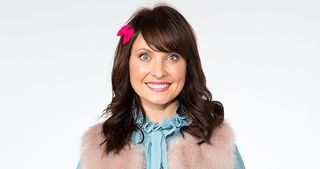 (Image credit: BBC/Jack Barnes)
Having left EastEnders in 2008, Emma Barton (opens in new tab), 38, has packed in pantos, touring productions of Chicago and One Man, Two Guvnors, and Celebrity MasterChef, among many others things. But now, she tells TV Times, after a flying visit to Walford last year, she's back for a long stint – and reveals why she'd love her character, Honey Mitchell, to reunite with estranged husband Billy…
You were last in EastEnders in 2014, for a guest stint. Did you know then that you would be making a permanent return this year?
"No, but I thought that maybe they were testing the waters. It was so exciting because it was kept a secret, and the audience reaction to it was really positive. I think that pleased everybody at EastEnders, as well as myself and Perry (Fenwick, who plays Billy)."
How much convincing did you need to come back?
"I've had a lovely time doing theatre work and it was towards the end of my run in One Man, Two Guvnors that there was an interest expressed in having Honey return. Of course, I was like 'Yes please!'"
Tell us what Honey's like now – is she still daft or has she grown up a bit?
"I think she's grown up a bit. She's had to manage her son in a modelling career, which has mirrored what she always wanted to do. But she still gets her words mixed up occasionally. I've had a few malapropisms - although nothing as memorable as when she asked for an 'epidoodle' when she was in labour."
Are her clothes still as colourful?
"I had a really fun time shopping again for Honey's wardrobe, which I think viewers will like – although I wasn't so sure about the leather dungaree cullottes that I had to wear in one scene. I was filming with Sam Womack (Ronnie) and the director told me to move into shot, but I was like 'Can I not just be sat?' because you could hear them squeaking when I walked."
You were written out of EastEnders in 2008. How did you feel about that?
"We were joking about it before I saw the boss to discuss my contract. I was like 'Wouldn't it be awful if I wasn't coming back!' But then it was 'Actually, I was right, they don't want me back!' and it was a real shock. But I'm a very strong believer of what's meant to be, and it gave me such opportunities. I don't think I would ever have been offered the part of Roxie Hart in Chicago if it hadn't been for me playing Honey."
http://www.youtube.com/watch?v=k_Q843OrPSQ
Have you kept in touch with your co-star, Perry, over the years?
"Yeah, Perry's like the big brother I never had. When we were given the Down's syndrome storyline (where Billy and Janet's daughter was diagnosed with the condition), that was such a responsibility and we wanted to do it so well - and I guess that brings you closer together as actors."
Have people still recognised you, even when you haven't been in the soap?
"Yeah, I get 'Oh my gosh, it's you!' or 'Don't you look like Honey?' so it's never gone away. But everyone's really lovely and it's part of the job. Barbara Windsor once said 'Darlin, when you leave your front door, you're public property' and I suppose that's true, really."
Would you like to see Billy and Honey to get back together?
"Yes, I think it's really important. I loved Arthur and Pauline always being together and Dot and Jim too, and Billy and Honey aren't dissimilar to them. I'd really like to show that a young family can work through things and should work through things."
How have you found working with the two children who play Janet and William? Are they the same young actors as before?
"Yes, I've got the lovely Grace (Janet) who I've always kept in touch with. I'm a patron of the Down's Syndrome Association and every year they do a photography competition so I've seen her there with her family nearly every year. There were two years that I couldn't go and then I saw her again and she ran up to me and said 'Emma!' I literally bawled my eyes out. And we've got gorgeous Freddie, who plays William. He's a looker; I think he's going to break lots of hearts."
There have been a few Walford returnees in recent years – who would you like to see back in the show?
"Angie Watts. I loved her; she was my favourite character."
Get the latest updates, reviews and unmissable series to watch and more!
Thank you for signing up to Whattowatch. You will receive a verification email shortly.
There was a problem. Please refresh the page and try again.