Former EastEnders star Peter Dean, aka Pete Beale: I embraced my Real Marigold Hotel adventure!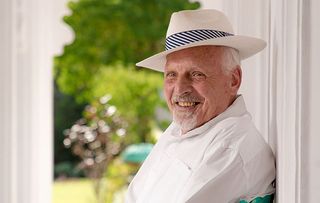 (Image credit: BBC/Twofour/Nikolaz Godet)
Peter Dean, who played market trader Pete Beale in EastEnders, reveals he had a great time when he travelled to India for The Real Marigold Hotel, which continues tonight on BBC1 at 9pm.
Ex EastEnders star Peter Dean says he was surprised by India when he visited the country for BBC1 hit, The Real Marigold Hotel, which continues tonight on BBC1.
The 79-year-old actor, best known for his role as legendary EastEnders character Pete Beale who was killed off screen back in 1993, says he had a great time with the other celebs as they spent a month in the beautiful city of Udaipur in Rajasthan.
"After watching documentaries about India over the years, mainly showing the negative aspects of lives and cities, I was surprised by the beauty of the country and the people that I met," says Peter, who was one of the original stars of EastEnders.
"I was humbled that they have so much time for each other and I felt relaxed in their company."
Peter, who a long time ago converted to Buddhism, added that he had "so many adventures" as he travelled with comedian Syd Little, presenter Selina Scott, actress Stephanie Beacham, jockey Bob Champion, writer Stanley Johnson, actress Susan George and Krankies double act, Janette and Ian Tough.
"I had many adventures and the memories of them will stay always with me," he says. "The Monkey Temple and the visit to the monkeys and the story of Ajay and why he visits there. The invite to the Hindu family and having a lovely meal cooked for me. I was so welcomed in a traditional Hindu way. The Hare Krishna temple where a petal fell from the statue and I was given the petal to keep. So many adventures."
And Peter said his role within the group was to be energetic. "I embraced the experience and hoped others followed my energy," he says.
As to his time in EastEnders, Peter once told The Express that people still come up to him to say Pete Beale's catchphrase.
"People still come up to me and say, 'Hello treacle'. That's amazing as I left EastEnders ages ago."
Tonight's episode, which features Peter, also sees The Krankies discovering that their sleeper train is a far cry from the Orient Express as it's possible to be.
The Real Marigold Hotel continues tonight on BBC1 at 9pm.
Get the latest updates, reviews and unmissable series to watch and more!
Thank you for signing up to Whattowatch. You will receive a verification email shortly.
There was a problem. Please refresh the page and try again.