Letitia Dean recalls her favourite scenes and stars from 30 years of EastEnders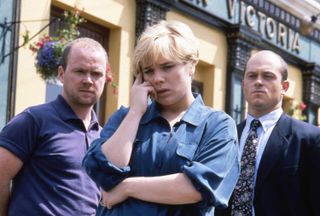 Letitia Dean has been with EastEnders, on and off, since it began in 1985. Here, she talks to Soaplife about her life as Sharon Watts/Mitchell/Rickman/Mitchell…
What's your favourite EastEnders moment for Sharon?
"I think probably one of my favourites has got to be around the Sharongate time, when her husband, Grant [Ross Kemp], finds out that Sharon's been sleeping with his brother, Phil [Steve McFadden]. That's definitely in my top three. Also, [Sharon's dad] Den serving [mum] Angie the divorce papers. And when Michelle gets pregnant by Den and Sharon finds out... That was shocking!"
What are your memories of working with Anita Dobson (Angie) and Leslie Grantham (Den)?
"Oh, I have many wonderful memories working with them. Anita was so nurturing and she was such an experienced actress - she showed me the ropes. Angie and Leslie treated me like their own daughter. I was young, very nervous in the beginning and relatively inexperienced in television, so they helped me all the way."
Do you have any favourite scenes?
"One of my favourite scenes was a 'two-hander' which I had with Susan Tully, who played Michelle. It was when Sharon found out that Den was the father of Michelle's baby. We were quite young then. Sue was a lot more experienced than me in television so I was really honoured to be doing it with her and that the producers trusted us to do a good job. Those two-hander scenes didn't come along very often; I think Den and Angie had done one, Dot and Ethel did one… I think for us, that was a great honour. It was so well-written and a pivotal moment for me."
Do you have any recent favourite stories for Sharon?
"Sharon marrying Phil! They have so much history together and for them to finally marry was such an amazing moment for them. It was totally dramatic, with a lot of other storylines coming to a head, but that was what I loved about it. It's one of my favourites moments since I've been back."
Do you have any favourite EastEnders characters?
"It has got to be Kim [Fox, played by Tameka Empson]. I just love her. I think she's sensational and I love that swagger she's got. She's fabulous. Also, Dot, of course. She is an amazing character played by the wonderful June Brown."
If you could cast anyone you want in EastEnders who would it be?
"It'll have to be Hugh Jackman. I wouldn't mind Hugh playing Sharon's lover. Oh yes, that would be rather fabulous. But that's just a fantasy, isn't it? That's not a reality, unfortunately."
What about if you could have one character return to EastEnders?
"Oh, there's a few – there's a list… Angie, Pat [Pam St Clement], Dennis [Nigel Harman], Grant, Peggy [Barbara Windsor], Tanya [Jo Joyner]."
Are you happy that Sharon married Phil?
"I think Sharon's in the right relationship with Phil. I feel very solid within that character relationship, and I think we look right together. Sharon and Phil are so Eighties, aren't they? They've still got that Eighties vibe. I reckon Sharon could turn the Albert into a gay bar, which I really would love to happen. If we're lucky enough to still be here in the next 20 years, we might also own a little mobility shop. The possibilities are endless…"
Most memorable death on the Square?
"My first episode - Reg Cox. Sharon wasn't really involved in that, though. It was a Nick Cotton [John Altman] job. Obviously, when Dennis died. Sharon, pregnant, and Dennis were just about to escape, get away from Johnny Allen [Billy Murray] and then suddenly he gets stabbed. Watching Pauline [Wendy Richard] die in the snow, I found that really sad. Also when Den got shot through the daffodils and then again, with the Queen Vic bust – there are a lot of memorable ones."
Who do you think killed Lucy Beale?
"I've got a few ideas flying around. For dramatic purposes and shock value, I think Ian. Abi [Lorna Fitzgerald] is a little red herring, I think. To be honest, it could be anyone!"
What do you think the future holds for your character?
"Loads more of the same – more drama, more hope, laughter, a nice little filming location abroad would be nice for Sharon. A little trip to Spain would be nice! I'm very proud to be part of the show. I'm loving what the writers are doing for my character. I feel it's back on top and I think it's back where it should be – where it deserves to be."
EastEnders, BBC1. Click here for dates and times.
Get the What to Watch Newsletter
The latest updates, reviews and unmissable series to watch and more!