EastEnders star Ricky Champ: Even in jail Mick Carter can't escape Stuart Highway!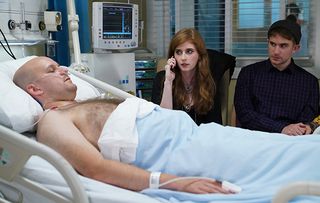 (Image credit: BBC / Kieron McCarron)
Ricky Champ on how Stuart Highway wants to 'be' Mick Carter and would even want to join him jail just to torment him!
If there's one person you'd rather not have your whole future depending on, it's evil Stuart Highway. Not only does he have a sinister vendetta against the Carters, he also doesn't seem to have much regard for any repercussions, and that makes him a very dangerous man indeed…
But when Stuart comes round from his coma next week, the Carters are thrilled, thinking he will tell the police Mick is innocent and the problem will go away. "I hate to burst their bubble," laughs Ricky Champ, the brilliant actor behind Stuart Highway, "but I'm not sure that's going to be the case!"
As Halfway goes to see his brother in hospital, he's horrified when Stuart claims that Mick shot him… "Halfway doesn't know what happened, he's just scared that his brother is dying," says Ricky. "He's terrified of losing him."
[check out the latest EastEnders spoilers]
While the Carters stand by Mick, Stuart's accusations against his best "frenemy" cause serious trouble for the landlord when the police arrive to arrest him. But still Stuart stands by the fact that Mick is guilty… just as Halfway comes to a worrying realisation.
There is one person who believes Stuart, however – his daughter, Zara. She arrives after hearing he has been shot, and he couldn't be happier to wake up and find her there. "Coming round from his coma is a bonus for Stuart, but to see his daughter there is like nothing else," says Ricky. "There's no nasty intentions, no vendetta, just a thankfulness that he's alive and touching his daughter's face."
With Stuart accusing Mick of shooting him, it's no surprise that by the end of the week Mr Carter finds himself behind bars. And this is something that produces mixed emotions for Stuart… "Now that Mick's in prison, Stuart feels that he might as well be in jail as well because he's lost his play thing. Stuart just wants to 'be' Mick. In his eyes the man has everything."
But with Mick spending time at Her Majesty's pleasure, does this mean Stuart will leave the Carters alone? "No! He's nowhere near finished with them," smiles Ricky. "I think it's safe to say this isn't the last we've seen of Stuart Highway!"
EastEnders continues on BBC1.
Get the latest updates, reviews and unmissable series to watch and more!
Thank you for signing up to Whattowatch. You will receive a verification email shortly.
There was a problem. Please refresh the page and try again.