'Emma gives James what Chas isn't giving him - including sex,' reveals Emmerdale's Bill Ward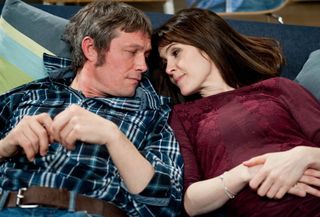 Emma Barton catches James at his lowest point - and gets him into bed, reveals Emmerdale's Bill Ward (opens in new tab)…
Why on earth does James betray Chas?
"He can see Chas [Lucy Pargeter (opens in new tab)] is deeply bothered about something, but she won't tell him about it. She's only talking to Paddy [Dominic Brunt (opens in new tab)]. He sees her with Paddy on several occasions and he gradually grows suspicious. He doesn't imagine for a minute that she'd get back with him, but Rhona [Zoe Henry (opens in new tab)] tells him they've slept together since their marriage broke down, which is news to him. When James confronts her, she won't tell him what the whole Paddy thing is about… so he walks out on her."
And Emma moves in on him?
"After James has walked out on Chas, Emma [Gillian Kearney (opens in new tab)] gives him everything Chas isn't giving him at the moment: understanding, conversation, sex… What's interesting, is that sex is the last part of that. All the other things happen first. There's a tenderness between them and you can kind of see what they might have once had. Part of James still loves Emma. He knows she's going to be trouble. But in an ideal world, he'd like his boys to have two, fully functioning parents."
Is this Emma and James reunited now?
"There are lots of reasons why that couldn't or shouldn't happen, but there's an understanding there. It's a question of whether the barriers are greater than what they have together."
So, how does James feel about Chas?
"He loves Chas. He adores her vivaciousness, her force of personality, her willfulness and her good humour. James has a habit of getting down on himself and Chas is good at picking him up. But right now she's none of those things because she's rightly worried about Aaron [Danny Miller (opens in new tab)]. She hasn't told James that, though."
Is Emma a danger to James?
"What James doesn't know is how much Emma has changed since they were together. Also, we haven't really discovered what happened in their relationship. We've talked about post-natal depression and they clearly weren't getting on, but I suspect the level of manipulation was not as extreme then as it is now."
Emmerdale (opens in new tab), ITV.
Get the latest updates, reviews and unmissable series to watch and more!
Thank you for signing up to Whattowatch. You will receive a verification email shortly.
There was a problem. Please refresh the page and try again.