Emmerdale's Charlotte Bellamy: 'Laurel's in denial about her drink problem'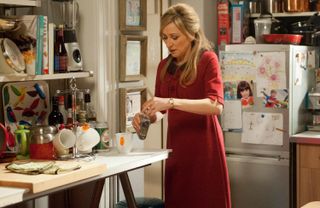 "Laurel's been pushed over the edge," Emmerdale's Charlotte Bellamy tells Soaplife… And she thinks drinking will help her get back on her feet. But it won't.
It's nearly always wine o'clock in Laurel's house these days, not that she would admit it. Laurel's in total denial over the extent of her drinking and lies to herself and Marlon when it results in her getting the sack and then missing a job interview.
"Drink has become Laurel's crutch. She thinks it's fine to have a glass of wine to get her through," says Charlotte.
Why is Laurel drinking so much?
"It's numbing the pain. She's finding life very hard as a working mum to a family that is not all hers. The extra pressure of stepchildren and all the backlash from Donna has pushed her over the edge. I think the root of the problem is that she's not happy – she wasn't even happy on her wedding day."
So how does Laurel lose her job?
"She's drinking with Bernice [Samantha Giles] and Nicola [Nicola Wheeler], then they leave and she ends up stood at the bar with Moira [Natalie J Robb]. They're having a laugh and Laurel is a bit giggly. She takes the Mick out of Ali, but then it turns a bit more sinister. Ali [Kelli Hollis] is Laurel's supervisor at the factory and has noticed that Laurel keeps being late. Jai calls her to find out where she has got to and she's in the pub. She's quite rude to him and he fires her on the spot."
Ooops! Bet that stops her laughing…
"She feels ashamed, but at the same time she convinces herself that Jai [Chris Bisson] is overreacting. It's the denial that happens with people who have a drink problem."
And what does Marlon say?
"Laurel doesn't give him the true version – which I don't think she believes herself. She says that Jai accused her of being drunk when she had only had one or two glasses of wine. Marlon [Mark Charnock] suggests that it could be a new start for Laurel."
And does she get a new job?
"There's a job going at the college and she gets an interview. She's very nervous beforehand and thinks that if she has some vodka it will steady her nerves. She ends up missing the bus and therefore the interview. However, she lies and tells Marlon that the interview went really well."
How do you feel about this storyline?
"I like the fact that this has happened slowly, over a period of six months. It's about the stresses on mothers at home and how relying on a glass of wine during adult time can quickly get out of control. I'm a mother and I can see how people, even if their situation is good, would use a glass of wine to relax. It's even easier to do if you have other pressures on you, like Laurel does."
Emmerdale, ITV. Click here for dates and times.
Get the What to Watch Newsletter
The latest updates, reviews and unmissable series to watch and more!