Emmerdale star Zoe Henry reveals she's studying for a second career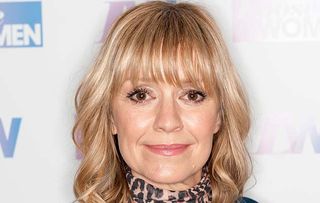 (Image credit: Ken McKay/ITV/REX/Shutterstock)
The actress is juggling acting with alternative medicine
Emmerdale star Zoe Henry has revealed that she is training to be a homeopath.
The actress, who plays vet Rhona Kirk in the ITV soap, says she is six months into a four year course, and is juggling her studies with filming commitments.
Homeopathy is a system of alternative medicine dating back to 1796, and is based on the philosophy that "like cures like." Patients are given minute doses of natural substances that in larger amounts would produce symptoms of the ailment they're suffering from.
Says Zoe: "I got into homeopathy in my twenties, for various reasons, and had such incredible results. And when I was 31, I had my daughter Violet, and used it through my labour.
"When Vi was two and a half, she had really bad eczema, so Jeff and I (Zoe's husband, Emmerdale actor Jeff Hordley) went to see a homeopath we knew in Essex. She gave us a remedy, and the next morning, Vi's skin had cleared up entirely. So we carried on using it, and I used it in my second labour (with son Stanley).
"Then I met an amazing homepath called Lisa Glydon last Summer; we hit it off and she said 'Why don't you train?' I said 'I've got a job, I'm a mum and I've got an allotment!' but she said 'You can do it part-time.' So I've got her to thank! So here I am, six months in, up to my eyeballs in essays and books.
"It's not for everybody, but the world would be a very boring place if we were into the same things."
The 45 year old adds that she is enjoying the course but that it's hard work, as she is not a "natural" student.
She tells us: "Sometimes, it's a bit overwhelming, because it's a four year course, but it's brilliant. I'm studying with lots of like-minded men and women, and it feels great.
"I do struggle with the academia side of it because that's never been my strong point, which is why I'm an actor. I was never good at exams or writing essays."
Main pic: Ken McKay/ITV/REX/Shutterstock
Get the latest updates, reviews and unmissable series to watch and more!
Thank you for signing up to Whattowatch. You will receive a verification email shortly.
There was a problem. Please refresh the page and try again.