Emmerdale's Gemma Oaten reveals baby excitement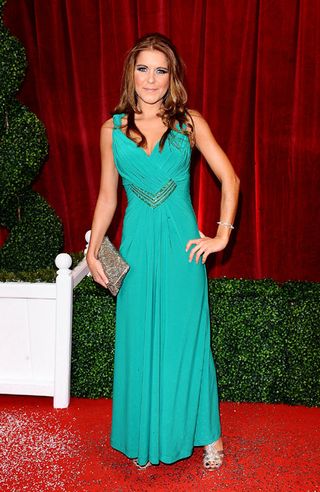 (Image credit: PA Wire/Press Association Images)
Emmerdale star Gemma Oaten has revealed that she cannot wait to start acting alongside a real baby when her character Rachel Breckle gives birth. The actress' alter ego is set to go into premature labour in the New Year and give birth to Jai Sharma's baby, a little boy she calls Archie - and while she has rehearsed with a wax model, it will soon be replaced by the real thing. "I'm so excited to meet little Archie for real," Gemma said. "I can't wait to get a real baby! I'm getting so broody, it's not even funny." "My sister's got a six-month-old baby, and Chris Bisson, who plays Jai, is going to be a dad in real life and I was holding Gennie's baby in a scene last week, and I can't wait to get my hands on my baby. I'm looking forward to it." So far Rachel has managed to keep the identity of Archie's dad a secret, but the scene is set for drama when Jai's father Rishi discovers the truth. Gemma admitted that it was not easy keeping Rachel's secret - but suspects it will not remain secret for long. "Now Rishi knows, one person finds out and it starts to snowball, and I'm just wondering who will be the next person to find out. "I've got a feeling somebody else will find out soon - I've not seen it written in black and white, but I've just got that feeling that this is going to start snowballing and then it's going to blow," she added. "But I think this is going to stay a secret and run and run. But I'm guessing the longer they leave it, the better the reveal will be."
Get the latest updates, reviews and unmissable series to watch and more!
Thank you for signing up to Whattowatch. You will receive a verification email shortly.
There was a problem. Please refresh the page and try again.