Emmerdale's Jeff Hordley: 'It's a roller-coaster that's about to descend into oblivion!'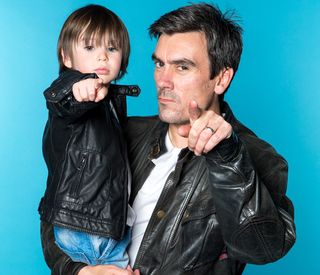 (Image credit: Joseph Scanlon)
Cain Dingle has enjoyed a relatively quiet patch in Emmerdale in recent months. He's managed to avoid arrest, illicit affairs and secret love children, but the peace is well and truly shattered when his son Kyle, conceived after a one-night stand with Amy Wyatt, turns up in the village with his grandma Joanie...
Emmerdale's Jeff Hordley (opens in new tab) talks to TV Times (opens in new tab) about Cain's new co-star – his secret toddler love child Kyle!
We know Cain as a bad boy, but is his son set to melt his dad's heart?
"There is a moment where Cain sees his son and it does kind of resonate with him. I wouldn't say it tugs at his heartstrings, but it certainly makes him stop in his tracks. It must be pretty strange to see your child like that after two years. Little Huey Quinn, who plays Kyle, looks a bit like me and has a Cain-of-old haircut."
What's it like working alongside Huey?
"It's nice because I have been through the toddler stage with my own children and it was brilliant, although as a parent, you think that each new step is fantastic. Huey reminds me of my two when they were little, he is good fun and is going to be great."
How is Huey coping with his script?
"He is very young, but he is hitting his marks and the other day he said something that wasn't scripted and they said, 'Oh we'll have that' because it was relevant to the scene. Before you know it, he'll have a full monologue!"
It's been a quiet time for Cain over the past few months, so have you been able to enjoy some time out?
"It's been a quiet start to the year, which is lovely as I have been able to spend time at home. I've been working on my allotment, doing some exercise and I have spent quite a lot of time with my children.
"I am glad of that time because from now on and for the foreseeable, it is going to be a very busy time for Cain. I have been looking forward to Kyle's return to the village."
Do you think Cain has changed over the years?
"The longer I stay in the show; the more layers there are to Cain. He has changed, as a man would from his late twenties to early forties, but his DNA is the same and he still has the potential to be a nasty piece of work."
Are you excited about this new chapter in his life?
"His relationship with Kyle is something I have not played before. It is new territory that I am very much looking forward to."
Despite the fact that Cain has had his fingers burnt several times after trying and failing to keep secrets from Moira, he doesn't tell her that Joanie (Denise Black) has been in touch and wants to meet up. Cain is still keeping secrets from Moira. Do you think viewers like that side of him?
"Secrets are what makes the soap world go round. If we just did things about people putting the bins out, viewers would switch off.
"I sympathise with Cain. A lot of men are like that when it comes to emotional stuff. They keep it to themselves. Cain is also worried that if he mentions it to Moira, she might say 'You must help out, he is your son' and initially, he doesn't want anything to do with Kyle."
Kyle is not the only person causing a stir in Cain's life. He also kisses Chrissie and visits Charity in jail. Tells us more about that...
"The kiss with Chrissie happens when they are arguing. It is a one-off, but Harriet takes a photo, which she gives to Robert ,who will then want to use that against Chrissie. When Cain visits Charity in prison, things don't go too well between them. It was so nice to be working with Emma Atkins, who is a close friend of mine."
Will Charity be back?
"If and when she comes back, I hope we will have a lot to do with one another. Cain and Charity have Debbie, so there will always be a close connection there."
In Charity's absence, Cain is making a valiant effort to stop Debbie from ruining her life by choosing Ross over Pete, but is he fighting a losing battle?
"Cain should be letting Debbie get on with it, but he is not that kind of person. I like to think that when my daughter Violet is older, I will be able to stay out of it. Your children have to make their own mistakes.
"I will let her do that – although I will probably intervene once or twice. It's hard knowing what to do for the best and Cain could really do with Charity's support at the moment."
Emma Atkins, who plays Charity, is currently on maternity after giving birth to a boy in April. Have you been to see them?
"Zoe and I have been to visit Emma and the baby. I had a cuddle with him, but Zoe had a lot more than me. He is lovely and it is wonderful to see Emma so happy."
After playing the dark, dangerous Dingle for 15 years, are you still happy to continue at Emmerdale?
"The longer I stay in the show, the better the stories seem to get. I always seem to be in the thick of it nowadays, when I wasn't so much a few years back."
So can we expect some gripping storylines ahead?
"I am really excited about what is to come – it is one big roller-coaster that is about to descend into oblivion. I know that sounds a bit dramatic, but it is!"
Get the latest updates, reviews and unmissable series to watch and more!
Thank you for signing up to Whattowatch. You will receive a verification email shortly.
There was a problem. Please refresh the page and try again.