Emmerdale's sexiest pick their soap award stars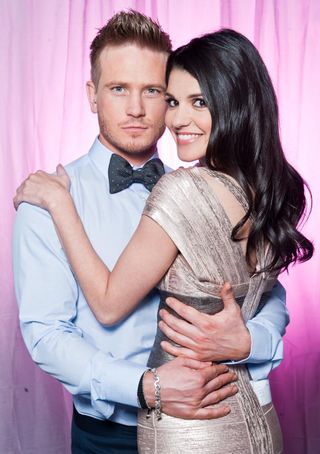 Emmerdale stars and nominees Matthew Wolfenden and Natalie Anderson talk to TV Times magazine (opens in new tab) about being among the sexiest at The British Soap Awards 2013…
Congratulations! How does it feel to be voted in the 'Sexiest' category?
Natalie: "Matthew has just joked that I've been in make-up since 4.30am in an effort to look 'sexy.' It's true though. When I play Alicia, I get into the character. I've had my hair done; my make-up and I feel good. But as me, Natalie Anderson. Well, I am often in a tracksuit covered in baby dinner. That's when I feel my most comfortable. I am a right little scruff in real life, but this is really flattering. And a bit mental."
Matthew: "It is quite cool to get into the last five. I don't look in the mirror and think 'I am sexy' – definitely not until I have been through hair and make up in the morning. It is weird, but flattering. It's nice that people have made the effort to vote for us."
What did your other halves think of the news?
Natalie: "My husband James is really proud. He knows that I don't get a lot of me time now we've got Freddie who is nearly one. He told me 'You do look good, love.'"
Matthew: "Charley [Webb who plays Debbie Dingle] sees me in the morning don't forget so she thought it was funny."
How do you rate your chances?
Natalie: "I haven't got a cat in hell's chance of winning. I am the oldest in the category and they are all really beautiful girls. Michelle Keegan will win it. She has my vote anyway. I think Matthew has got a good chance of winning now because Scott Maslen isn't a nominee!"
Matthew: "Natalie told me she is going to vote for Danny Mac who plays Dodger in Hollyoaks!"
Do you think Emmerdale has a good chance at scooping an award this year?
Natalie: "I'd like to think so. The live is up for best episode and I would like that to win. I know other soaps have done a live, but we did it at the village location. Lucy Pargeter had to run from the church to The Woolpack and had she fallen over, it would have been a disaster. In the end it was seamless and I think we did a brilliant job."
Matthew: "I hope so. Every year we say 'fingers crossed', but this year, with the live episode up for an award, we have a chance. We never hold our breath though. I think we deserve more than we get."
Who will you be rooting for at the awards?
Natalie: "Laura Norton. She is brilliant as Kerry and I would love to see her get Best Newcomer. And Lucy Pargeter has played Chas in a state of high drama for years now. She is always on the money and works really hard. She definitely deserves best Dramatic Performance."
Matthew: "I'd like to see Tom Lister get Best Exit. His was a good episode. I really miss him. He was a good friend – we did a lot of training together. We'd be in the pool each morning as we did triathlons."
Is there anyone you feel deserved to get nominated but didn't?
Natalie: "Yes, Charlotte Bellamy was brilliant as Laurel with all the drama about Ashley and Sandy. I would like to see her up for Best Actress."
Matthew: "Our Charley gets to the long lists, but she never makes the last five. I'd love her to. She is always there in the big storylines. She has had a really big year this year, so I am hoping she gets her moment next year. I love the new dark Debbie – the character and the hair."
Will you be rooting for actors from other soaps?
Natalie: "I know Chris Fountain and Danny Mac who are also up for Sexiest Male. I used to babysit for Chris, as our mums were best friends. I starred in the West End musical Wicked with Danny for a year and we are really good mates."
Matthew: "To be honest, I admire anybody who does a soap. We all know what hard work it is and everyone who gets an award deserves it."
Who is your favourite soap villain?
Natalie: "Kim Tate. She was iconic during my childhood. I will never forget how she left Frank on the floor having a heart attack, it was terrible."
Matthew: "Jeff Hordley as Cain Dingle is a great soap villain. He is so good at the mean and moody thing, but in real life, he is the nicest person you would want to meet."
And your all-time favourite soap character?
Natalie: "Raquel in Corrie. She was just brilliant. She was bubbly and bright, but when she went to pieces, it was amazing."
Matthew: "Eric Pollard. By a mile. He was before I came into the show. Second is Madge Bishop from Neighbours, which is the soap I grew up watching."
Get the What to Watch Newsletter
The latest updates, reviews and unmissable series to watch and more!