'I had to scream at empty chairs!': Emmerdale actress Fiona Wade, on Priya Kotecha's shock new storyline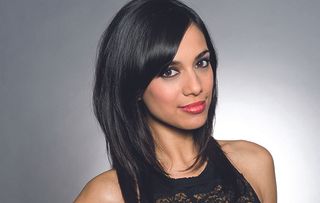 Emmerdale star Fiona Wade has revealed all about her latest storyline involving a stressed out Priya and a suspiciously bruised baby Eliza...
Actress Fiona Wade has confessed to Soaplife that Priya Kotecha is left with nothing after she's accused of hurting a child…
What's the story?
Stressed-out Priya Kotecha threw food at a wall when she was looking after daughter Amba and baby niece Eliza, who has cerebral palsy. Then Eliza's dad Jai Sharma found her covered in bruises. He feared little Eliza had had another seizure and she was rushed to hospital.
This week there's a terrible twist when it's revealed Eliza didn't have a seizure and Priya's family suspect she hurt her niece!
"She is horrified," actress Fiona Wade told Soaplife. "She leaves the factory over it and is in a very vulnerable place."
What's happening in Emmerdale? See the latest soap storylines
Soaplife's interview with Fiona Wade
Soaplife: Priya's dad Rishi is the first to suspect her… Why?
Fiona Wade: "Two days before, Priya had a meltdown… She had a terrible meeting at work, her personal life isn't great, and she is worried about Amba, as she is not eating. She's always worried that her eating disorder has affected her daughter and she is very stressed about it. Rishi walked in just after Priya threw the food and saw the mess. He puts two and two together and comes up with six."
S: How does Priya feel about being suspected?
FW: "She is absolutely devastated. She goes to the hospital to see if Eliza is okay as she thinks she had an epileptic fit. Rishi asks 'Are you sure this is nothing to do with you?' and she can't believe what she is hearing."
S: Does anybody believe her?
FW: "It's difficult. Jai knows deep down that she hasn't done anything, but he has to protect Eliza. Mum Megan Macey has doubts, too but, again, her first instinct is to look out for her daughter. The police and social services get involved and Priya ends up moving out of the family home and leaving the factory!"
S: So she's feeling vulnerable…
FW: "Yes. Everything has fallen apart since her affair with Pete Barton, who was supposed to be marrying her best friend, Leyla Harding. Now she has no family, no man and no best friend."
S: What has caused Eliza's bruises?
FW: "You will have to wait to find out. There is a lot more drama and speculation to come."
S: How do you feel about this storyline?
FW: "It's great to have a new story. I've had to do some screaming scenes that were tricky. But they kept the kids out of those, so I had to scream at empty chairs! And I would like to see Priya come back fighting and feeling strong again."
Get the latest updates, reviews and unmissable series to watch and more!
Thank you for signing up to Whattowatch. You will receive a verification email shortly.
There was a problem. Please refresh the page and try again.