Emmerdale star Gillian Kearney: Emma Barton fire scenes 'exciting' to film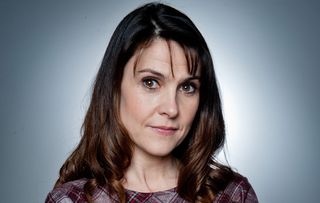 Emmerdale star Gillian Kearney has revealed that she was slathered in fireproof gel to make sure she didn't go up in flames in 'exciting' fire scenes
It's the end of the line for Emmerdale's Emma Barton (played by Gillian Kearney) next week, when son Finn finally learns the truth about her pushing his father James off that motorway bridge. Knowing she'll lose her precious boys, the nutty nurse confronts nemesis Moira in the barn, whom she blames for her broken life, which leads to a fight and a terrifying blaze.
Here Gillian Kearney, aka Emma Barton, tells TV Times about the dramatic showdown and what's next for her
TV Times: What is Emma's state of mind when she confronts Moira?
Gillian Kearney: "She's devastated, because Finn has found out everything and said: 'You've got to tell my brothers and if you don't, I will.' So she knows it's game over, and she thinks that whatever happens, she's got to have it out with Moira one last time and make her understand that it's all her fault. If she'd have left James alone, then he'd still be alive."
TVT: Does she want to hurt Moira?
GK: "She's not going there to physically hurt her, she's going there to say to her: 'I'm going to tell you something you don't know, which is that I killed my husband and it's your fault, not mine.' She's got nothing left to lose because her sons are going to find out, anyway. There's some freedom in that because she's arriving with that truth after we've seen her trying to cover it up for the best part of a year."
TVT: What was it like to film those scenes with Natalie J Robb, who plays Moira?
GK: "Because there's a fire, it took a long time, because it's got to be safe as well as look effective. But it was exciting. It's energy. Natalie and I were shouting at each other across ladders that were completely on fire so I didn't have to act, it was done for me! It's scary afterwards, because you think: 'Oh my goodness what have I just done?' But the stunt women were brilliant. They slathered us in fireproof gel, and all our clothes were protective, so they were just not capable of setting on fire."
As Emma Barton, Gillian was covered in fireproof gel to make sure she didn't go up in smoke!
TVT: Emma is a very fragile and unbalanced character. How have you got yourself into the mindset to play her?
GK: "I've just thought of the person I love most in the world, and tried to put myself in a position where I felt I was being rejected by that person. I've never made it about violence or aggression, but about desperation – it's about trying to keep someone with me, rather than pushing them away. That's what's sad for Emma, because she ended up pushing someone away in James who was more important to her than her own life. And more important than James are her sons, so that's the tragedy. She knows that when they find out what she did to their father, they'll turn their backs on her."
TVT: Has it been difficult to make Emma a fully-rounded character, rather than just a soap villain?
GK: "My constant struggle has been to make her a human being and not make it clichéd or melodramatic. It's much more interesting if fans watching see qualities where they go 'Well we're all a bit like that.' I know she's extreme but you would get jealous about a husband's great love, and she's just a person who's not afraid to show it. I've loved trying to find the humanity in her."
TVT: Have there been any scenes that you have found particularly challenging?
GK: "When she was bullying poor Arthur, I thought 'I'm not comfortable with this; how far is this bullying going to go?' because I've got a little boy of my own. But the director, Di Patrick, was fantastic. She's a mother herself and she said 'Emma's just trying to control the boy in the nicest way that she can because if she doesn't, she'll lose her own sons.'"
TVT: What kind of reaction have you had from fans about Emma?
GK: "I was away on holiday recently, and people were coming up to me and going 'Ooo, you've got away with it again haven't you? You're a piece of work! You didn't tell Finn everything, did you?' They just can't believe that she's got away with it for so long. I think people do like her. I think you kind of admire someone who can get away with something for so long, and you know you're being teased as a viewer."
TVT: Emmerdale isn't the first soap you've been in – we still remember you for playing Damon Grant's girlfriend, Debbie, in Brookside. How do you feel that people still remember you for that role?
GK: "It's a compliment! It was my first ever job and I was only in it for a year, so the fact that they still remember that one year shows how many people were watching it. I learnt my craft there, so I'm always grateful to Brookside. It was a happy job, and Simon O' Brien (who played Damon) was a laugh, although he must've been mortified at the time, because he was 21 and I was only 14! I still see him through a mutual friend of ours, Colin McKeown who produced the Brookside spin-off, Damon and Debbie."
TVT: We know that you're leaving Emmerdale this Autumn. What's next for you?
GK: "I've got nothing lined up at the moment, but I'd like to do some theatre. When you've done a couple of years of telly, sometimes it's nice to be on stage again and reinvent yourself. But that's not to say I wouldn't love to go into another period drama. Anything that's going to be satisfying and enjoyable, really. I just love working. I've been lucky, I've never had more than a couple of months out of work, touch wood. I think you jut need to be prepared to try your hand at anything and be brave."
Alison Slade has over 20 years of experience as a TV journalist and has spent the vast majority of that time as Soap Editor of TV Times magazine.
She is passionate about the ability of soaps to change the world by presenting important, issue-based stories about real people in a relatable way.
There are few soap actors that she hasn't interviewed over the years, and her expertise in the genre means she has been called upon as a judge numerous times for The British Soap Awards and the BAFTA TV Awards.
When she is not writing about soaps, watching soaps, or interviewing people who are in soaps, she loves going to the theatre, taking a long walk or pottering about at home, obsessing over Farrow and Ball paint.
Get the latest updates, reviews and unmissable series to watch and more!
Thank you for signing up to Whattowatch. You will receive a verification email shortly.
There was a problem. Please refresh the page and try again.