Michelle Hardwick: My sexuality surprises people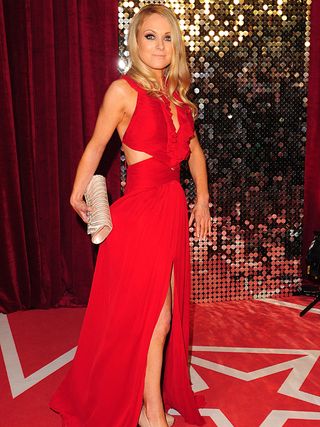 Emmerdale actress Michelle Hardwick has spoken publicly for the first time about her sexuality - revealing that she is gay and in a relationship with another woman.
The 36-year-old, who plays vet Vanessa Woodfield in the ITV soap, told the Mirror that life with Rosie Nicholl, whom she has been with for 18 months, was 'blissful'.
"Life is good - and my life with Rosie is a big part of that," said Michelle, who previously starred in The Royal as receptionist Lizzie Hopkirk.
"I've not spoken about it sooner because it never seemed like the right time."
She added: "When I was in The Royal the majority of our audience were older and I would have been nervous of revealing too much.
"But since joining Emmerdale I've been getting asked about my personal life and when people want to know 'do you have a boyfriend?' it's tricky."
Michelle also revealed that people are often surprised when she tells them that she is in a relationship with another woman.
"I do tweet, so people can see me and Rosie on there but they probably think we're mates who share a house.
"People say, 'I'd never have guessed you were gay' because they expect you to look a certain way and I don't fit their stereotype."
Michelle also opened up about her current storyline on Emmerdale, which sees her having to cope with her pal Rhona Goskirk's painkiller addiction.
As well as the dramatic aspect, the actress said it highlighted important issues of the perils of drug addiction.
"Vanessa is at the end of her tether and things get a lot more complicated between her and Rhona as things get worse.
"Because it's painkillers she thinks she can handle it herself and help Rhona. She wouldn't be like that if it was heroin, but as this story shows, painkillers can be just as serious.
"Addicts get in this safe bubble but when the withdrawal starts, that's when they need more.
"It can be hard to watch but it is a fantastic story. I'm so proud to be part of it. It's one of the reasons I wake up smiling every day."
Get the What to Watch Newsletter
The latest updates, reviews and unmissable series to watch and more!