'This is the old Robert – he wants as much as he can get!' says Emmerdale's Ryan Hawley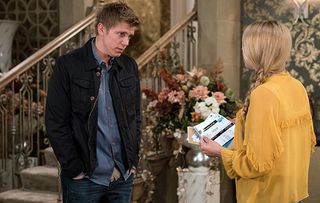 Robert Sugden is vicious and destructive without Aaron Dingle's love to bring out the best in him. And this leads to tragedy, explains Emmerdale's Ryan Hawley
With Aaron Dingle out of his life in Emmerdale, Robert Sugden has gone back to the dark side and is after a slice of Home Farm Estate. To get this, he needs Lawrence White out of the way, so he drugs him.
Unfortunately, woozy Lawrence gets in his car, loses control and hurtles towards his grandson Lachlan, Belle Dingle and Victoria Sugden.
"Robert will feel really guilty," Ryan Hawley told Soaplife. "He doesn't want to hurt anyone, he is simply out to get the possessions and power he craves."
Why is Robert even at Home Farm? "Initially, it was because Rebecca [Emily Head] was on her own. She's pregnant with his child and asked Robert to help her. She feels out of her depth with the business and Robert has experience working there, so he is maintaining client relationships and making sure they don't go under. However, he decides to manipulate the situation to his own advantage."
How does he feel about being a dad? "It has been a long journey from cheating on Aaron to here. I am not sure he has come to terms with how this baby will affect his life. He is reluctant in some ways. He didn't want the baby to get in the way when he was with Aaron, but now they are not together, we might see him express a different view on fatherhood."
Why is he drugging Lawrence? "He wants him out of the way so he can have more control over what is happening at Home Farm. It will be easier for him to manipulate Rebecca if Lawrence isn't watching."
So he's back to being bad again? "We saw a softer side to Robert when he was with Aaron, but this is the old Robert, who wants as much as he can get. He doesn't have the nice house any more and will do whatever he has to get the possessions and power that he wants. He is desperate to improve his living standards."
How will he feel when he hears he caused an accident? "Although Robert regularly does things that are morally questionable, he cares for some people, such as Aaron and his sister, Victoria. Nobody sees him put the medication into Lawrence's brandy, but his own guilt will eat away at him."
Emmerdale, ITV
Get the latest updates, reviews and unmissable series to watch and more!
Thank you for signing up to Whattowatch. You will receive a verification email shortly.
There was a problem. Please refresh the page and try again.