'I may be 90 but I'm not retiring!' Emmerdale's Sandy, actor Freddie Jones, on leaving the village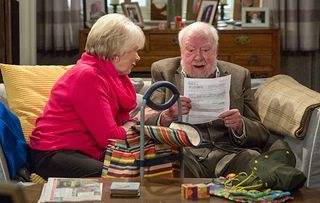 Veteran Emmerdale actor Freddie Jones is about to head off into the sunset as Sandy Thomas but he's not quitting acting just yet.
We'll soon be saying a sad farewell to Sandy Thomas, who is leaving the village for new adventures. Actor Freddie Jones, has spoken to Soaplife about why he decided to leave and what he's up to next.
What's the story?
Sandy Thomas is about to bow out of Emmerdale. But, for once, there are no explosions, car accidents or illnesses. Instead, the character follows in the footsteps of his good friend, Betty Eagleton, and leaves clutching some tickets to Australia – thanks to the mysterious stranger Maisie, played by Butterflies actress Wendy Craig.
"The producer and I had the same ideas about Sandy's departure," actor Freddie Jones has told Soaplife. "It's not epic and I hope he has a happy life in Australia!" So do we!
What's happening in Emmerdale? See the latest soap storylines
Soaplife's interview with Freddie Jones on leaving Emmerdale as Sandy and working with Wendy Craig
Soaplife: Who's the mysterious Maisie?
Freddie Jones: "She arrives on a tour bus and she tells Sandy she's been sent with gifts from his friend, Betty. Sandy and Maisie get on wonderfully and she ends up missing her bus and staying for a short time. As she's leaving, she hands him tickets to Australia and he wonders if he should go."
S: Have you worked with Wendy Craig before?
FJ: "Yes. We met doing an episode of The Royal years ago. She is a charming and delightful creature."
S: Will Sandy go to Australia?
FJ: "You'll have to wait and see how it all pans out."
S: Are you going to miss Emmerdale?
FJ: "Yes, the whole thing has been quite extraordinary. They're all such intelligent and professional people."
S: Why did you decide to leave?
FJ: "Ashley Thomas' death was the denouement for me. With Sandy's age, I couldn't see where else his story could go. I also realised I was travelling for three hours to get to work and that often required overnight stays. They did offer me another contract, but I wanted to go out with a bang and not a whimper."
S: What have been your favourite moments?
FJ: "The stories with Ashley, Sandy's friendship with Sean Spencer and the pirate ship scenes. I've had every scene stolen by either a child or an animal! I enjoyed playing Ashley's father immensely. John is a very good actor."
S: Why have you kept working until the age of 90?
FJ: "For the simple reason that actors don't retire, they die. I believe the story goes that John Gielgud, at the age of 96, rang Maggie Smith and said in a deep depression: 'They don't know who I am any more. I'm seriously thinking about changing my agent!'"
S: What will you do with your time from now on?
FJ: "Apart from playing Santa Claus in a department store, I shall present myself in the queue for auditions for my son Rupert's film. From this moment forward, my life will be more impoverished."
S: Did you have a goodbye party?
FJ: "There was a line of Sandy's where he says 'Farewell party? Never!' and I added, 'It would be like attending my own wake!' They did throw me a surprise party, though, and what a delight it was. It made my idea of it feeling morbid totally obsolescent."
Emmerdale, ITV
Get the latest updates, reviews and unmissable series to watch and more!
Thank you for signing up to Whattowatch. You will receive a verification email shortly.
There was a problem. Please refresh the page and try again.