Steve Halliwell: How I got from a detention centre to Emmerdale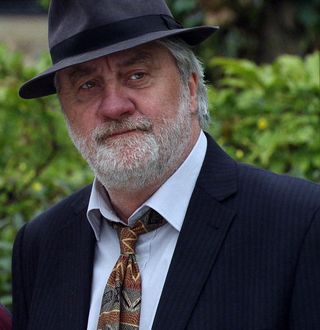 Steve Halliwell (opens in new tab) tells TV Times (opens in new tab) about the long hard journey that brought him to his regular role as Zak Dingle in Emmerdale...
You've had a rocky past. Do you share a lot in common with Zak?
"I can see a pattern to me leading to playing Zak. I went on a journey and it seemed to be my destiny to play this man who I understood. Everything the Dingles had been through, I had too – trouble with the police, fighting, being evicted. And if there were any aspects of Zak's life I hadn't lived, I knew people who had."
When did you decide to write your autobiography?
"I've been contemplating writing my story – the real story and not a white-washed version – for a long time and I finally got around to it. I have written plays in the past, but writing a book is completely different and I struggled with it for a time."
What's it called?
"If The Cap Fits: My Rocky Road to Emmerdale."
Have you always wanted to write?
"I didn't do that well at school and ended up working in the cotton mills. My life was so dull and uninteresting. I liked the arts and was in a band for some time. Then, I decided I wanted to become a writer."
What inspired you?
"I'd read 'On The Road' by Jack Kerouac and decided to rough it like he had. Working in the factory was so mind numbing, I didn't think I had anything to lose."
You slept rough in London, was it tough?
"I was so hungry and got very thin. Back then, it was illegal to be homeless and I was arrested for sleeping in an empty Government building. I was sent to Ashford remand prison for two weeks and then I was put on probation and sent home. My dad didn't want me back, he thought I was a waster."
Did you continue to get into trouble with the lads back at the Cotton Mill?
"A few of us were drunk – drink is something that runs right through my story as a problem. We were wandering home at 11.30pm when one of the gang I was with threw a brick through an off licence window. We ran off with a lot of booze and somebody called the police to say they had seen a bearded youth running away from the scene – I had a beard then. They grabbed me and as you do, I took the rap and got sent to a detention centre for three months."
It must have been difficult serving time...
"I had not been there long when I had to serve cocoa through a hatch to the other prisoners. As I was about to start, another inmate put a knife to my back and when he said 'burn' I had to pour hot cocoa on some poor bloke's hand. Eventually, I did get a chance to explain to these lads and they forgave me, as they knew this guy. Put it this way, it was a tough place."
When did you realise you wanted to become an actor?
"I signed up for acting classes after seeing an advert in the library. That was it. Bang! I knew I wanted to be an actor. I didn't know about grants or anything, it was not part of my culture, but it was the thing I had been searching for and I signed up for this course at evenings and weekends."
Where was your first acting job?
"Bolton Octagon theatre, playing bit parts and working as a general dogsbody. I loved it, but it was poorly paid and I wanted to marry my childhood sweetheart Susan, so I went back to the mill."
You did marry Susan, but divorced and then married again. Do you have any children?
"I have a daughter, two stepsons, a granddaughter, step grandchildren – it's all a bit Dingley."
How did you get the part in Emmerdale?
"The casting director saw me on stage and rang my agent to say she wanted me to audition for this part as a petty criminal. There was me and six other guys and I got it."
Taking into consideration your difficult past, is there anything you'd change?
"All my mates from the mill are retired now. They are fishing and playing boules in the park all day, but I wouldn't change a thing. When I am acting, I have to concentrate so hard that I have no worries at all. I am alright in the pretend world – it's the real world I have problems with."
Get the latest updates, reviews and unmissable series to watch and more!
Thank you for signing up to Whattowatch. You will receive a verification email shortly.
There was a problem. Please refresh the page and try again.