21 Jump Street - Channel 5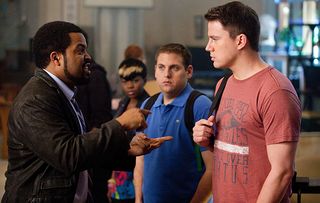 (Image credit: Scott Garfield)
In this raucous action comedy spoof reboot of the 1980s TV series, Jonah Hill (the film's co-writer) and Channing Tatum are hostile high-school classmates-turned-police officer partners
In this raucous action comedy spoof reboot of the 1980s TV series, Jonah Hill (the film's co-writer) and Channing Tatum are hostile high-school classmates-turned-police officer partners.
After bungling an arrest, they're sent off to sour-faced Ice Cube's special unit and sent back to high school, posing as pupils, to find the source of a lethal new drug.
But the duo bungle their undercover identities and so sporty Tatum has to hang out with the science geeks, while smart Hill must pretend to be the athletic ace while they try to get closer to Dave Franco, the student supplying the drug.
The plot lurches all over the place, but there are many very, very funny gags that poke fun at everything from Hollywood's desperate recycling of the past to the conventions of buddy-cop movies.
Directors Phil Lord and Christopher Miller (makers of the animated comedy Cloudy with a Chance of Meatballs) keep the action barrelling along and there are enough laugh-out-loud moments to keep the viewer happily on board.
Get the What to Watch Newsletter
The latest updates, reviews and unmissable series to watch and more!