Doctor Alicia Munroe lies to Ethan – then seals it with a kiss!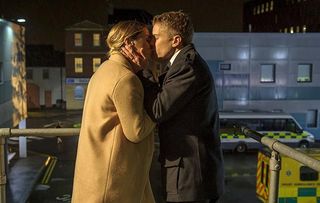 (Image credit: Alistair Heap)
Alicia's anonymous blog causes a media storm, threatening Ethan's career in Casualty
Doctor Alicia Munroe has a serious case of writer's regret in Casualty. She's been secretly venting her frustrations at the increasingly dangerous conditions in Holby ED. This week her blog Rage in Resus is the talk of the town, which causes acting clinical lead, Ethan Hardy no end of problems.
Ethan turns to Alicia for support when he finds himself under fire from the board about the blog and patient backlogs. Later, Ethan reaches breaking point when he discovers he's been coldly manipulated by Darwin's clinical lead, Jac Naylor (Holby City's Rosie Marcel). Concerned, Alicia keeps quiet about her role in Ethan's troubles, and reassures him he's doing an okay job. Before the day is over, Alicia is so moved by Ethan's heartfelt vulnerability that she seals her lies with a kiss! Fans have been wanting Alicia and Ethan to reunite for sometime, but not like this…
Elsewhere, paramedic Iain Dean welcomes his little sister Gem back to Holby. Gem (returning star Rebecca Ryan) was last seen handing herself into the police after she ran over doctor Lily Chao. This week, Gem's served her time and ready for a fresh start. She is hired at Holby ED as a porter only to be given a stern talking to by Jacob – the ED is under pressure and she better not mess up!
Also this week, Iain is anxious for Gem to succeed, but ends up stifling his little sister. Meanwhile, junior doctor Rash is a big hit with some older ladies when a number of care home residents are admitted. Look out for fantastic guest star Rita May, who plays Matilda, and is quick to notice Rash has taken an instant shine to Gem!
Get the latest updates, reviews and unmissable series to watch and more!
Thank you for signing up to Whattowatch. You will receive a verification email shortly.
There was a problem. Please refresh the page and try again.