Anchorman 2: The Legend Continues - C4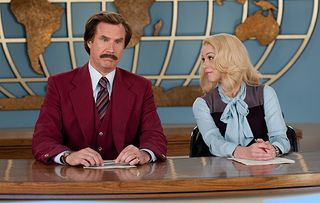 (Image credit: Gemma LaMana)
TV news presenter Ron Burgundy (Will Ferrell) is back for a silly but enjoyable sequel
TV news presenter Ron Burgundy (Will Ferrell) is back for a silly but enjoyable sequel.
The off-the-cuff joshing between Ferrell and co-stars Christina Applegate, Paul Rudd, Steve Carell and David Koechner hits the satirical bull's eye when Burgundy and his team join a 24-hour news channel and inadvertently invent the type of news - hysterically jingoistic, triviality obsessed and hopelessly shallow - that now dominates the airwaves.
However, the plot strand involving a romance between Carell's weatherman and Kristen Wiig's equally dim office worker is desperately unfunny.
Viewers may get more of a kick from the film's surprisingly high-calibre supporting cast, with roles for James Marsden, Greg Kinnear and Harrison Ford, plus brief cameos from the likes of Sacha Baron Cohen, Marion Cotillard, Tina Fey and Will Smith.
Get the What to Watch Newsletter
The latest updates, reviews and unmissable series to watch and more!