Austin Power in Goldmember - 5Star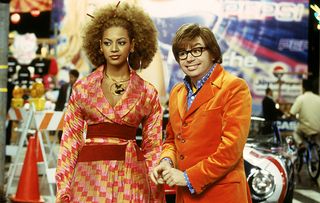 Austin Powers (Mike Myers) returns to 1975 and grooves with Beyoncé Knowles in this gag-packed, delightfully daft third movie
Austin Powers (Mike Myers) returns to 1975 and grooves with Beyoncé Knowles in this gag-packed, delightfully daft third movie.
A guest star-laden extract from Bond-style 'Austinpussy' (featuring Tom Cruise and Gwyneth Paltrow) gets the film off to a rollicking start, before Myers moves quickly into his stride as Austin, Dr Evil, Fat Bastard and the megalomaniac Dutchman Goldmember.
The film also benefits from the injection of a beaming Michael Caine as Austin's oft-absent father. 'There are only two things I can't stand,' he snarls. 'People who are intolerant of other people's cultures - and the Dutch!' And just wait for John Travolta's big moment!
Some of the infantile humour does wear a bit thin, but there are enough inventive gags to forgive the lapses - a peeing gag and a variation on the old shadows-in-the-tent routine are irresistibly well sustained.
Get the What to Watch Newsletter
The latest updates, reviews and unmissable series to watch and more!