Bad Neighbours 2 - Channel 4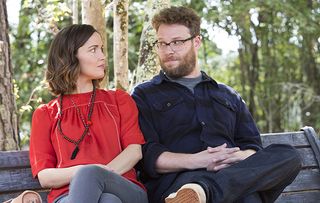 (Image credit: ©Universal Pictures)
A rowdy college sorority moves next door to hapless suburban parents Seth Rogen and Rose Byrne
A rowdy college sorority moves next door to hapless suburban parents Seth Rogen and Rose Byrne.
So they turn to their former frat-boy foe Zac Efron to help them in this disappointing sequel to 2014's rollicking battle-of-the-generations comedy.
The filmmakers have tried to give their original set-up an equal opportunities twist, with Chloë Grace Moretz's feisty fresher, the couple's new nemesis, striving to start a breakaway sorority where young women will be free to party on their own terms, unshackled by the boorishly sexist status quo.
Inevitably, the sisters prove every bit as raucous and unruly as the lads when they take over their predecessors' former fraternity house. This places them next door, of course, to Rogen and Byrne and threatens to scupper the couple's impending house sale.
Sadly, the sequel's vaguely feminist slant fails to produce enough decent jokes to earn our goodwill.
Get the latest updates, reviews and unmissable series to watch and more!
Thank you for signing up to Whattowatch. You will receive a verification email shortly.
There was a problem. Please refresh the page and try again.