Bear's Mission with David Walliams – ITV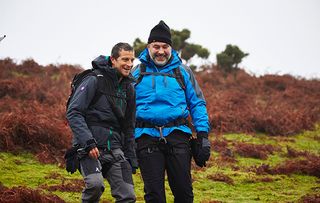 (Image credit: ITV)
Has Bear Grylls finally met his match in David Walliams?
Bear's Mission is to take entertainer David Walliams out of his comfort zone...
He's scared of heights, has never owned a pair of walking boots and is squeamish at the sight of a dead rat.
It's fair to say that David Walliams is out of his comfort zone as he hikes, abseils and climbs with survival guru Bear Grylls in Devon.
He doesn't give up, though, and despite a few tears halfway down a slippery cliff face and a moment of panic when Bear serves up – you guessed it – barbecued rat, David battles through with his usual self-deprecating sense of humour.
There are some touching moments, too, when he opens up to Bear about fatherhood, his Little Britain days and his long-term battles with depression…
TV Times rating: *****
David, 47, tells TV Times how careering down cliff faces and roughing it is good for the soul…
What made you want to do this?
I've known Bear for 10 years and he's often asked me to do one of these trips. Finally we were both free at the same time! I knew he'd want to take me outside my comfort zone but was hoping for some swimming – no chance! It was all stuff I have absolutely no skillset at, like rock-climbing and abseiling!
Are you an outdoorsy person?
I like being outdoors but there's a difference between being outdoors and wanting to be in Dartmoor National Park when it's pouring down with rain. I don't own a cagoule, or go on camping holidays, and although I'm happy being outside with a cup of tea I'm definitely not an adventurer.
Get the latest updates, reviews and unmissable series to watch and more!
Thank you for signing up to Whattowatch. You will receive a verification email shortly.
There was a problem. Please refresh the page and try again.