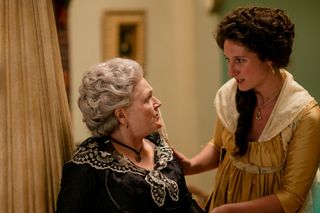 Henrietta sends Violet on a dangerous mission as Beecham House continues
As the lavish ITV drama Beecham House continues, John's dream of obtaining a trading licence looks tantalisingly within his grasp as he gets hold of the perfect gift to impress the Empress.
But when scheming General Castillon receives a sneaky tip-off about John's plans, he goes to very dark lengths to try to thwart him and force him to leave India for good. Can Margaret help John come out on top?
Meanwhile as Daniel and Chanchal grow scandalously closer, an increasingly on-edge Henrietta (Lesley Nicol) has run out of opium and begs Violet to go and buy her more of her 'elixir' to feed her growing addiction.
But Violet's illicit shopping trip lands her in terrible danger, and Henrietta's secret is in danger of being revealed.
In conversation with TV Times, Lesley revealed how she prepared for the role. "I chatted to ex-addicts because I hadn't got a clue.
"You see Henrietta in various stages of her opium habit – when she's needing it and when she's had it.
"It was extremely common back then and it was cheaper than alcohol, but highly addictive and she has got it well into her system."
And she's enjoying the role enormously: "I like that the viewers are discovering India along with Henrietta and Violet (Henrietta's companion, played by Bessie Carter) as they think, 'What the heck is this?!' and figure it all out.
"I worry I might get stoned in the street, though, because Henrietta says some shocking things."
TV Times rating: ****
Get the latest updates, reviews and unmissable series to watch and more!
Thank you for signing up to Whattowatch. You will receive a verification email shortly.
There was a problem. Please refresh the page and try again.