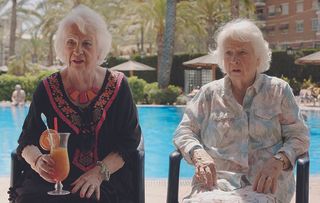 (Image credit: ITV / Tiger Aspect)
In a feverishly nutty episode of Benidorm, Monty realises he might have made a mistake in hiring Sammy Valentine as the Solana's next big entertainment act
In a feverishly nutty episode of Benidorm, Monty realises he might have made a mistake in hiring Sammy 'Get Off My Grass!' Valentine (Shane Richie) as the Solana's next big entertainment act.
He's just about to tell him that the gig is off when he has a change of heart.
Maybe Sammy isn't so washed up after all?
Elsewhere, Robert decides he can't live without the love of his life Cyd and races to the airport to confront her over-bearing father, Franco (Gary Oliver) as he flies in.
And while Jacqueline recognises Dennis and Nigel (Gareth Hale and Norman Pace) as the police officers who investigated her late husband for fraud, Noreen's twin sister Doreen turns up to meet her loaded toy boy!
Thank you for signing up to Whattowatch. You will receive a verification email shortly.
There was a problem. Please refresh the page and try again.