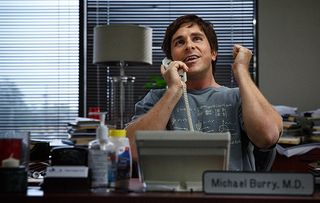 (Image credit: Jaap Buitendijk)
This dazzling dark comedy, starring Christian Bale, Steve Carell and Ryan Gosling, focuses on the guys who made a killing from the 2008 financial crash
This dazzling dark comedy, starring Christian Bale, Steve Carell and Ryan Gosling, focuses on the guys who made a killing from the 2008 financial crash.
Based on the book by Michael Lewis, director Adam McKay's film shows how a 'bunch of weirdos and outsiders', including Bale's eccentric, heavy-metal-loving genius, Carell's furiously indignant fund manager and Gosling's reptilian Wall Street trader, spotted that reckless mortgage lending by greedy banks meant that the US housing market - and with it the whole world economy - was on the verge of collapse. The cast is excellent and Brad Pitt has a great supporting role as a former banker with a conscience.
McKay finds entertainingly tongue-in-cheek ways of explaining the intricacies of credit default swaps and collateralised debt obligations (putting actress Margot Robbie in a bubble bath to expound on sub-prime mortgages, for example) and he makes the fact-based plot as gripping as a thriller.
All the same, it's difficult to know whether to laugh or cry while rooting for the film's protagonists. They were the ones who bet against the banks and won, but, in the aftermath of the ensuing meltdown, we are the losers.
Get the What to Watch Newsletter
The latest updates, reviews and unmissable series to watch and more!