Billy Connolly's Ultimate World Tour – ITV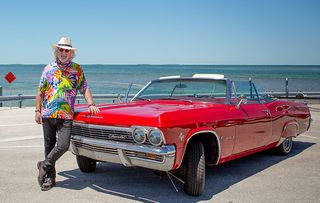 The Big Yin celebrates a quarter century of travelogues with a guided tour of Florida, now his home, and looks back on previous globe-trotting exploits, from dancing naked in the Orkneys to marvelling at the Grand Canyon.
Billy's interactions with locals are hugely enjoyable, and he brings an infectious positivity to everything he tries.
Now 76, Billy is in a philosophical mood – and, as always, is a delightful travel companion.
TV Times rating: ****
In an interview with TV Times, Sir Billy, 76, takes a look back on his life, career and travels…
What do you like about Florida? I like the weather, and the fact that no one knows me. I get a degree of anonymity that really appeals to me and makes my life simpler.
How has travel changed you? Travel makes me miss my shoes. When you're packing, the shoes suffer because they're heavy.
What's been the strangest activity on your travels? Dancing naked in the Orkneys – it was chilly and nerve-racking. It's not so much being naked, as being the only person naked!
Are people as important as places in your travelogues? The people can be the life and soul of them. The trick is to listen. I'm not in the business of doing interviews – I just want to talk and share a minute of their day.
Do you have lots of souvenirs? I have thousands. My wife says, 'That's beautiful – it would look good in your room!' So I've got a room full of rubbish.
What was your first impression of your wife, Pamela Stephenson? I first met her at a Not the Nine O'Clock News rehearsal in London. They opened the door and she came flying past on a food trolley in a Superman position! I thought to myself, 'I like you.'
Has Pamela had a big impact on your outlook on life? Absolutely enormous. The first thing she said was, 'Don't talk so much at dinner. Give the rest of the people a chance!'
Your career's been amazing – anything you'd change? No. It's been splendid. It never came down or levelled off – it kept climbing. Going on Michael Parkinson's show was enormous. Working in America catapulted me to big-ness, but they had trouble with my accent!
Get the latest updates, reviews and unmissable series to watch and more!
Thank you for signing up to Whattowatch. You will receive a verification email shortly.
There was a problem. Please refresh the page and try again.