Black Monday – Sky Atlantic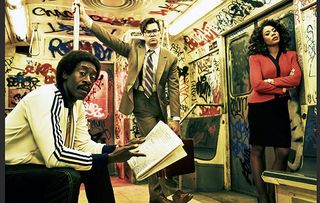 Hollywood star Don Cheadle plays a greedy trader on Wall Street in the hard-partying 1980s in Sky Atlantic's new comedy Black Monday
Hollywood star Don Cheadle plays a greedy trader on Wall Street in the hard-partying 1980s in Sky Atlantic's new comedy Black Monday
If you ever have a hankering for the 1980s, you won't want to miss this US sitcom, Black Monday.
Set on Wall Street, the 10-parter is crammed with references to floppy disks, shoulder pads and Nintendo – all to a soundtrack of Duran Duran, Tears for Fears and Run-DMC.
Don Cheadle stars as 'Mo' Monroe, the brash, foul-mouthed founder of a trading company who is intent on making serious money and partying hard.
The series begins with the real-life stock-market crash of 19 October 1987 (which gives the show its title), before jumping back a year to reveal who might have been responsible.
'The 1980s was a great time for fashion and music,' says Don.
'It was so much fun to look at the things that people thought were really cool back then.
'They seem ridiculous now.'
Among Mo's team (pictured above) is his deputy trader and ex-lover Dawn (Regina Hall) and naive new recruit Blair (Andrew Rannells), who's invented a potentially lucrative algorithm.
House of Lies actor Don says that one of the most enjoyable parts of Black Monday was Mo's look.
'He's got a foot in the business world and in the street, so he wears Adidas trainers and gold chains,' he says.
'We based his hair on Billy Ocean.
'A lot of musicians had that look. I'm glad it's gone away.'
Unlike Mo, the 54-year-old actor has never been a risk-taker when it comes to money.
'I am fortunate that I had parents who taught me to not live beyond my means,' he says.
'Growing up, I knew a lot of actors who thought they were going to be making the same money for ever – but people lost their homes and they had to get rid of their cars.
'Those situations were always cautionary tales for me.'
These days, he doesn't have to worry too much about money.
He's been playing the role of superhero War Machine in the Marvel Cinematic Universe since 2010 and recently starred in Avengers: Endgame, one of the most successful films ever made.
'It's been a 10-year journey that I couldn't have anticipated,' he says.
'It was very exciting to be part of the latest chapter because it was so poignant and emotional.'
TV Times rating: ****
Get the What to Watch Newsletter
The latest updates, reviews and unmissable series to watch and more!