Britain in Colour: Royalty – Smithsonian Channel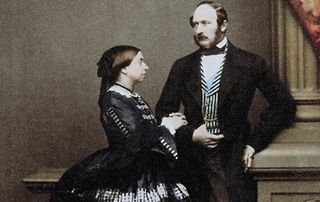 (Image credit: Alamy Stock Photo)
Britain in Colour on Smithsonian Channel reveals 20th-century British history as you have never seen it before - using colourised archive footage to bring to life the making of modern Britain
In 1896, the first film of Queen Victoria was shot. In tonight's episode, it shows the 77-year-old monarch in a carriage with her family around her at Balmoral.
It's quite remarkable to see it at all, never mind in colour.
The rest of the documentary on free-to-air channel Smithsonian races through modern British history as it tells the story of the Royal Family captured on film and now shown in colour.
From funerals to coronations, an abdication, two world wars and beautiful footage of a young Princess Elizabeth with no idea how soon she will be made Queen, this is an illuminating and intimate look back at the Royals as they are rarely seen.
TV Times rating: ***
Get the What to Watch Newsletter
The latest updates, reviews and unmissable series to watch and more!
Freelance writer and editor
Joanne Lowles has been writing about TV since 2002. After graduating from Cardiff University with a Postgraduate Diploma in Magazine Journalism, she worked for All About Soap magazine covering the ups and downs of life on the cobbles, the square and the Dales.
Next came nearly 10 years at TV Times magazine as a writer and then deputy features editor. Here she spent many happy days interviewing the biggest names in entertainment and visiting the sets of some of our most popular shows including Downton Abbey, Call the Midwife and Strictly Come Dancing.
With a love of nature and wildlife she's also interviewed the leading experts in this area including David Attenborough, Chris Packham and Steve Backshall. She's also travelled the world visiting Mongolia, Canada and South Africa to see how the best in the business make the most brilliant natural history documentaries.
Freelance since 2013, she is now is a digital writer and editor for What to Watch, previews the best on the box for TV Times mag each week and loves being constantly surprised, entertained and informed by the amazing TV that she is lucky enough to watch.