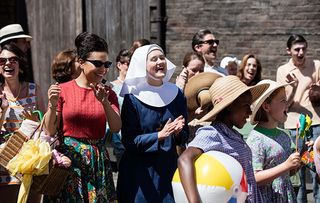 (Image credit: BBC/Neal Street Productions)
Valerie helps a mother of five come to terms with her latest child's birth defect as Call the Midwife continues
Valerie helps a mother of five come to terms with her latest child's birth defect as Call the Midwife continues
It's a busy week for the team as they try to get local mums to sign up for a measles vaccination trial for their youngsters.
Hazel is keen to do anything to protect her baby, but as her anxiety about her little girl's health threatens to overwhelm her, can the Turners get to the bottom of her fears?
Meanwhile, in yet another sensitively handled storyline, Valerie has her work cut out assisting a seasoned mum who is stunned when her sixth baby is born with a cleft lip and palate.
Thankfully, there's time for some fun as Phyllis and Vi organise a temporary beach for the community to enjoy!
TV Times rating: *****
Fan favourite Laura Main, 37, who plays Shelagh Turner, talks to TV Times about the forthcoming episode
Did you enjoy filming the beach scenes on set in Surrey?
They were loads of fun! It was a hot day, so we were fighting for shade, but it was incredible what 'Poplar' looked like.
There's always a good atmosphere for those filming days because you catch up with actors you haven't seen recently and everybody's dressed up.
Was it fun for the young actors who play Shelagh's children, too?
It was, and that was one of my first days filming with the new little boy playing baby Teddy – it was wonderful exploring the set with him.
Normally when filming, you wait on your mark, but you just have to keep him amused.
He didn't need encouragement to pop his head through the beach cut-outs to pose for photos!
There are some tough medical stories this week, including Shelagh helping a worried mum as the Turners begin a measles vaccination trial…
Yes, seeing the start of measles vaccinations reminds us why you have to vaccinate, so it's important to have it on prime-time TV.
Shelagh's all for it, although when Teddy's the demo, she's fearful.
One mum, Hazel, having been told what could happen if her baby gets measles, is keen to take part but she gets anxious when her child's too young for the trial.
There's something else going on, though, and a cause for concern because she's very distressed, so we try to support her.
Do you like seeing Shelagh dealing with patients again?
Shelagh's a brilliant organiser but passionate about medicine and caring for others, so it's nice she's using those skills and, as an actor, I enjoy working with the guest actors in those more personal scenes.
This episode also features a newborn with a cleft palate and an animatronic baby was used. Are you still amazed at what the team create behind the scenes?
It's incredible what they do. The first time we had an animatronic baby was for the thalidomide story [in series four], so it's similar technology.
I just feel proud to be doing a show that tackles issues that still affect people now.
Get the latest updates, reviews and unmissable series to watch and more!
Thank you for signing up to Whattowatch. You will receive a verification email shortly.
There was a problem. Please refresh the page and try again.