Can Maddy tell her mum she has cancer?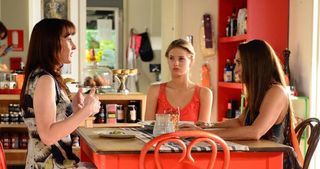 Roo advises Maddy to tell her mum face-to-face that she has cancer. Maddy calls and her mum excitedly accepts her invitation to visit. Tanya and Maddy go for walk and Maddy breaks the news about her cancer. Later, Tanya shouts at Roo for not telling her about Maddy's cancer and says she wants Maddy to move back home.
The teenagers walk around the Canberra war museum bored and making flippant remarks. Jett looks at Alf realises he's not well, he's experiencing flashbacks. During the break, John tells the class they need to be more respectful, but Alf tells him he's wasting his breath. Marilyn has had enough and lambasts the kids.
The teenagers go back inside and start to really engage with the war memorial. They leave with a changed attitude and find out they will spend the night in a trench. Alf loses his temper with John as he continues to have flashbacks.
Get the latest updates, reviews and unmissable series to watch and more!
Thank you for signing up to Whattowatch. You will receive a verification email shortly.
There was a problem. Please refresh the page and try again.