Casualty spoilers: Zsa Zsa's mission to save Dylan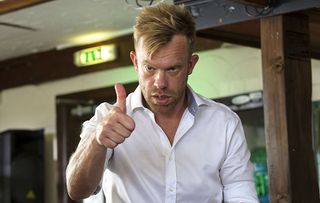 (Image credit: Alistair Heap)
Sharon Gless makes a special guest appearance as Zsa Zsa. Can she save doctor Dylan Keogh?
In this week's Casualty we discover Nurse David Hide has frantically been trying to track down doctor Dylan Keogh since his ex-girlfriend Ciara Cassidy tragically lost their baby. Running out of options and with clinical lead Connie Beauchamp furious about Dylan's unexplained absence, David phones the one person he knows Dylan will listen to – his former mentor, American neurosurgeon Zsa Zsa Harper-Jenkinson…
Zsa Zsa makes quite an entrance when she lands in Holby ED (don't question it, time moves differently in Holby), and most people hear her before they see her!
Zsa Zsa's feet hardly touch the ground before she's embroiled in a jaw-dropping showdown with Connie (Amanda Mealing) and has recruited timid David (Jason Durr) to help her locate Dylan.
But unknown to everyone, Dylan's knocking drinks back with his alcoholic dad Brian (Matthew Marsh) in a karaoke bar. It isn't long before Dylan and his dad are embroiled in a drunken fight, with potentially deadly consequences.
Can David, Zsa Zsa and her silent sidekick Jeffers save Brian's life before Dylan has blood on his hands? Read our interview with Sharon Gless for more
Elsewhere, hospital porter Gem Dean is refusing to talk to junior doctor Rash Masum since he threw up on her when they were in the throes of passion. Seeing an opening in the man-market, Rash's ambitious childhood friend Jamila invites him to the medics' ball as her plus one. Rash is unsure, but Jamila is not taking no for an answer, and even enlists the help of Rash's mum to strong-arm him into being her date!
Will Rash's resolve collapse under the weight of these two formidable women?
Meanwhile, doctor Elle Gardner reveals to nurse Jacob Masters that their teenage son, Blake, wants to visit his paternal grandmother Omo, who is currently receiving medical treatment miles from Holby. Jacob (Strictly star Charles Venn) is still shaken from his recent reunion with his mum. Will the noble nurse continue refusing to see Omo for what he believes is her own good?
Also this week, David discovers Zsa Zsa has a hidden agenda when it comes to helping Dylan. Connie compliments under confident Rash on his medical skills and offers to be his referee if he wants to undertake surgical rotation. And Brian's good intentions to make reparations with his son, Dylan, take a dark and twisted turn…
Get the latest updates, reviews and unmissable series to watch and more!
Thank you for signing up to Whattowatch. You will receive a verification email shortly.
There was a problem. Please refresh the page and try again.