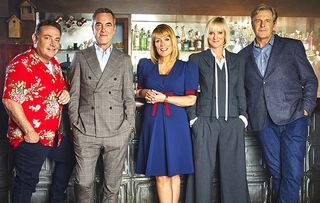 (Image credit: ITV)
The brand new series of Cold Feet starts with a shock for one of the friends
The brand new series of Cold Feet starts with a shock for one of the friends
It's over a year since we last caught up with Adam, Pete, Jenny, Karen and David but it has been well worth the wait thanks to the perfect blend of laugh-out-loud and heart-in-mouth moments in this cracking opener.
The gang are in Anglesey at a wedding, but whose is it?
Meanwhile, as David causes a stir at work and Karen deals with the fallout after an announcement from son Josh, Pete and Jenny seem happier than they have ever been.
But things aren't looking so great on the romantic front for Adam, whose legendary luck with the ladies has deserted him.
Brace yourselves, though, because there's a shock in store that will cast a shadow over all their lives…
During a break in filming, we sat down with James, who turns 54 on 15 January, John, 49 and Fay, 52, to find out what surprises and shocks the latest six-part series has in store for their characters…
'Adam is always trying for romance. There's one shocking moment that may be a springboard to something else… He's not flogging a dead horse – there's life in him yet!
But he's on a continual quest to work out if there'll ever be another Rachel [Adam's late wife, played by Helen Baxendale in the original series] or if he's destined to end up alone.
'There's real strength in this series. Jen and Pete are now re-centred. She is studying and he is supportive and they are working towards a better future together. But they have another challenge that they're both working through.
That's the thing about Cold Feet: you don't know what it's going to throw at you.
'Pete also gets to perform a heroic act in a canal in episode one. It was a grim day for me! I needed a wetsuit under my costume and there's silt at the bottom of the canal, which is like quicksand, so it was kind of hairy. And goodness knows what's in that silt – I think I could feel Victorian skulls cracking under me as I walked on it!
'There's also a danger of getting diseases from rats so the medic had the biggest container of anti-bacterial gel I've ever seen because the muck went everywhere, even up our noses. We had to drink full-fat Coke afterwards because apparently that destroys everything!'
'This series feels refreshed, as it's more of a nod to where we were. I think it's the strongest we've seen, with more life and tears and laughter.
'Pete and Jen have still got Jen's mum, Barbara [Marji Campi], living with them but their marriage is in a good place. There are hiccups, though, that sideline Jen's path in terms of her education.
'It's to do with a big health storyline and because the group's so close, that has a ripple effect. It's challenging and Jenny struggles with things, but we're unpicking it in a delicate way and it is going to be funny, scary and honest. People don't react as you'd necessarily expect.
TV Times rating: ****
Get the latest updates, reviews and unmissable series to watch and more!
Thank you for signing up to Whattowatch. You will receive a verification email shortly.
There was a problem. Please refresh the page and try again.