Coronation Street spoilers: Ed Bailey finally comes clean to Aggie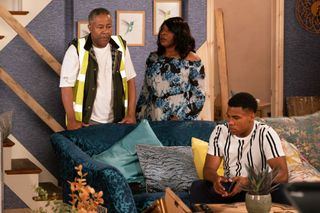 Ed Bailey breaks down and realises it's time to tell Aggie the truth
Ed Bailey in Coronation Street agrees to letting James lend him £5k but once the first £1k is transferred Michael finds Ed sat staring at a gambling site. Breaking down Ed says it is time for him to tell Aggie that he was to blame for them losing everything not Michael. Will he really come clean knowing he may never be forgiven?
News of Steve's paternity spreads with varying reactions around the street. Emma contacts her mum but what does she have to say? Meanwhile, how will Tracy treat Steve now she knows the truth?
Nick finds Max in Victoria Garden smashing up plant pots. When he tries to stop him, Max takes a swing at Nick, blaming him for the fact David's in prison.
As Geoff heads to the surgery, it is clear there is nothing wrong with him and it is just an excuse to visit the doctor. Despite this, when he gets back he tells Yasmeen he has been suffering heart palpitations as the doctor had taken some blood tests.
As Yasmeen reacts with concern, Geoff seems quite pleased with himself that he has managed to fool her again. What will the next stage of his plan bring?
Second episode of Coronation Street tonight.
Get the latest updates, reviews and unmissable series to watch and more!
Thank you for signing up to Whattowatch. You will receive a verification email shortly.
There was a problem. Please refresh the page and try again.