Counting Tigers: A Survival Special – ITV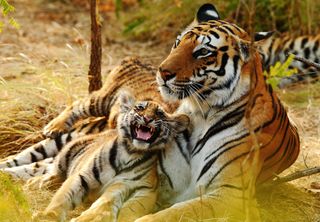 Cameras follow the progress of an ambitious census in India's tiger reserves in ITV's Counting Tigers: A Survival Special
The tiger may be the biggest and most terrifying big cat, but despite its strength, agility and the iconic striped fur, which allows it to blend perfectly with its surroundings, tiger numbers are dangerously low, as we see in ITV's Counting Tigers: A Survival Special.
This one-off film narrated by Joanna Lumley, sees camera following the largest wildlife survey ever conducted, in the place absolutely key to tiger survival – India.
Wildlife campaigner and conservationist Martin Hughes-Games tracks the new count from start to finish as it uses the latest technology to determine numbers.
The tiger-counting team travels across 50 tiger reserves and 400,000km in search of this majestic but elusive predator in the hope that an increase in their numbers might just save the species from extinction in the wild – it's thought there are only about 3,000 left in the world.
MORE: Animal Babies: First Year on Earth – BBC2 (opens in new tab)
Once the count is complete, the documentary reveals whether the number has risen or fallen – a key moment for the survival of the species because if the count shows a decline then this could spell the end for the tiger in the wild, whereas an increase might indicate that this is one of the world's most successful conservation projects.
TV Times rating: ***
Get the latest updates, reviews and unmissable series to watch and more!
Thank you for signing up to Whattowatch. You will receive a verification email shortly.
There was a problem. Please refresh the page and try again.