Crazy Rich Asians - Sky Cinema Premiere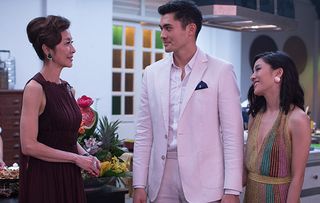 (Image credit: Sanja Bucko)
Constance Wu's Chinese-American New Yorker is in for a shock when she discovers her long-time boyfriend (Henry Golding) is fabulously wealthy
Constance Wu's Chinese-American New Yorker is in for a shock when she discovers her long-time boyfriend (Henry Golding) is fabulously wealthy.
They are in Singapore for his best friend's wedding, but he hasn't revealed his family background nor that he is the highly eligible heir to their enormous fortune.
Wu is a high-achieving economics professor but, as the daughter of a working-class single mother, will she fit in with his impossibly swanky moneyed set? And, most importantly, will his intimidating, frosty mother (Michelle Yeoh) deem her worthy of her son?
Based on Kevin Kwan's bestselling novel, this breezy romantic comedy is a decidedly old-fashioned, glossy fairy-tale. Its deference to the super rich may raise a few eyebrows, but none of this stops the movie from being hugely endearing, thanks in large measure to the charming leads and a colourful supporting cast.
Yeoh is fabulous and Gemma Chan proves equally exquisite as Golding's cousin. However, the film's joyous standouts are a pair of barnstorming comic turns from Ken Jeong and Awkwafina as members of a cheerfully vulgar - and surprisingly loveable - nouveau riche family.
Get the What to Watch Newsletter
The latest updates, reviews and unmissable series to watch and more!