Darcey Bussell: Dancing to Happiness – BBC2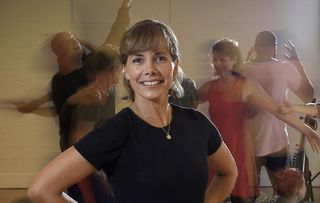 (Image credit: BBC/Matchlight)
Strictly judge Darcey Bussell meets people who use dance as therapy to see if it works, as part of her mission to improve the state of the nation's mental health
Darcey Bussell on the transformative power of dance
When Dame Darcey Bussell retired from professional ballet 12 years ago, it took a real toll on her emotionally.
It was only when she took up dance classes again that she realised how crucial dance was in keeping her on an 'even keel'.
For this uplifting documentary, the Strictly judge meets people whose lives have been transformed by dance, including a brave group of troubled teens who have found support and strength through special dance therapy classes.
She also discovers how dance is helping people with dementia and Parkinson's and learns why dance, more than any other form of exercise, has such a positive impact on mental health.
TV Times rating: *****
Here, Darcey tells TV Times about why she did the documentary
How has dance helped your mental health over the years?
I can't imagine a life without dance. It's a passion, it's a love, it's an addiction, it's something that lifts me, it's a wonderful structure. It is many, many things but dancing has sort of given me everything I know about myself and my confidence, and when that's taken away from me I feel lost. It was only when I retired from ballet 11 years ago that I realised just how crucial dancing was to me. A year afterwards it kind of came as this massive wave that I was missing something about who I was as person – and it was dance, basically!
Why make this documentary?
Lots of us know how good it feels to dance but I'm convinced we should be using it as a way of improving our mental health. Tackling the mental-health crisis is one of the biggest challenges we face today. I want to know why dance is so special and why it works.
You start off in Manchester, where a group of troubled girls are finding support and strength through dance. What was that like?
In the last 25 years, depression among teenagers has risen by 70 per cent in the UK. Life shouldn't be that complex at that age. It's a constant doubt, isn't it? About whether they're right or they're fitting in, I suppose, all those anxieties. But dance is giving them another chance to express themselves. I've always used dance as a piece of strength to hold me together, to give me structure and to give me discipline, and for them it's a way of opening up and expressing all the tough things in their life. It's really rewarding to watch.
Get the latest updates, reviews and unmissable series to watch and more!
Thank you for signing up to Whattowatch. You will receive a verification email shortly.
There was a problem. Please refresh the page and try again.